You are here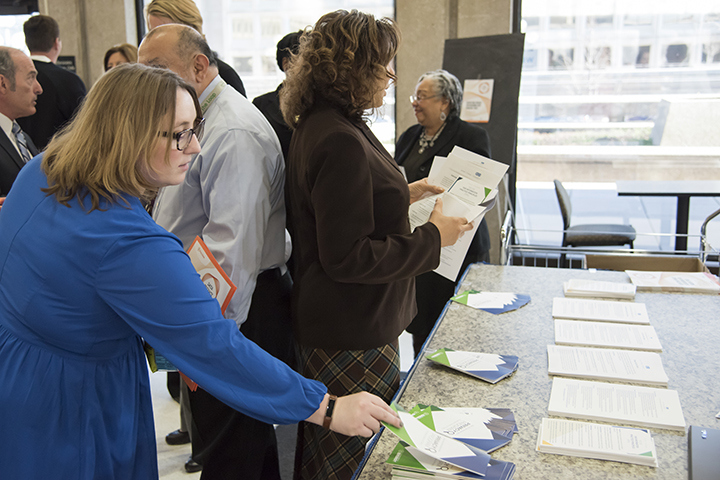 Data tells a story – enriching, defining, and connecting us all. But mishandling it can have grave consequences. That's why the Department of Energy (DOE) takes data privacy seriously. This week DOE/NNSA marked the importance of privacy by hosting informational booths at headquarters locations to share with employees how to protect personal information and be good stewards of data in the workplace.
"The NNSA is committed to ensuring that our IT systems comply with the Privacy Act at of 1974 and other relevant Office of Management and Budget guidance concerning the safeguarding of personally identifiable information (PII)," said Wayne Jones, NNSA Chief Information Officer.
Jones' organization is responsible for the NNSA Privacy Program, which coordinates closely with the DOE Privacy Office and other organizations across the government and industry.
"Our organization has privacy act officers stationed across the country at NNSA labs and site offices to ensure that personal information is protected and handled appropriately," Jones said. "The Department provides privacy training to all of its employees and promotes awareness through events like this to remind everyone about how they can protect themselves at work and at home."
Among the information shared with employees for Data Privacy Day were a key tips to spread awareness of the importance of privacy and protecting personal information:
Understand the Fair Information Practice Principles (FIPPs) and how you can implement them in your work.
Encrypt personally identifiable information (PII) whenever you send it via email.

PII is defined as: "Information which can be used to distinguish or trace an individual's identity, such as their name, social security number, biometric records, etc. alone, or when combined with other personal or identifying information which is linked or linkable to a specific individual, such as date and place of birth, mother's maiden name, etc."

Make it a practice to limit collection, use, and sharing of PII whenever possible.
Immediately report instances where PII is lost or disclosed without authorization, even if you just suspect it might have happened.
Avoid discussing personal information with individuals who do not need to know it.
Set strong passwords and think before you act online. Remember that what you share and post can last a lifetime.
On January 28, 1981, the first legally binding international treaty dealing with privacy and data protection was signed. Data Privacy Day is now a event for everyone, observed annually.
As part of DOE's longstanding commitment to privacy, the DOE Privacy Program will continue to host a variety of awareness events throughout 2017 in addition to this week's informational activities.
Data Privacy Day is led by the National Cyber Security Alliance.