You are here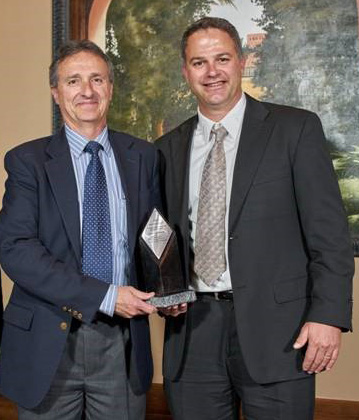 The Kansas City National Security Campus relocation project was recognized as an industry benchmark last week at the 12th annual Aviation Week Program Excellence Awards competition. Awards were presented Nov. 4 in Scottsdale, Arizona.
The NSC's contractor, Honeywell, received top honors in the Special Projects category for successfully completing one of the largest and most complex industrial moves in the U.S., the relocation of the National Security Campus in Kansas City.
The Program Excellence Awards recognize aerospace and defense organizations that achieve results and find new ways to be more innovative and efficient in delivering value to customers. Winners were selected by a panel of experts in program leadership and performance from industry, government and academia.
Several years of planning and project management enabled the successful relocation while maintaining a 99.8 percent product delivery record at both facilities. This shining example of private-public partnership saves the taxpayer $150 million annually and provides the greatest strengths of government and industry to be cost-effective, energy-efficient and sustainable while fully supporting a critical national security mission.
The Kansas City team was singled out for safely and securely relocating to the LEED® Gold certified facility from 2012-2014. The move was completed one month ahead of schedule and $18 million under budget, while maintaining site-best safety and security performance.