You are here

Participants in Apex Gold at Lawrence Livermore National Laboratory.
What would national leaders do in the face of a transnational nuclear terrorism threat? Last week, ministers and other senior delegates from 37 nations, along with representatives from the International Atomic Energy Agency, the European Union and the United Nations gathered in Livermore, California, to practice their ability to respond effectively to an emerging nuclear security threat.
On Jan. 28, the U.S. Department of Energy and the Kingdom of the Netherlands Ministry of Foreign Affairs hosted Apex Gold, the first ever minister-level gathering to identify national and international actions to address a nuclear crisis. The ministers were presented with a hypothetical nuclear terrorism scenario and then worked together to determine how each of their nations might respond at each step of the situation. The participants also toured Lawrence Livermore National Laboratory to better understand some of the technical tools available for detecting and analyzing nuclear material and making decisions in the event of a nuclear terrorism crisis.
Apex Gold helped to prepare ministers to advise their heads of government during a nuclear security crisis or emergency. The exercise also laid important ground work for the 2016 Nuclear Security Summit, which President Obama will host on March 30 – April 1, 2016 in Washington, D.C. At the Summit, global leaders will discuss the threat of nuclear terrorism and identify steps to minimize the use of civil highly-enriched uranium, secure nuclear materials, and counter nuclear smuggling. They will also discuss how the vital work the Nuclear Security Summit process can be carried forward in the future.
Vice Minister Renée Jones-Bos of the Netherlands Ministry of Foreign Affairs talks to her colleagues.
Energy Secretary Ernest Moniz and other participants are shown lab equipment at the event.
A demonstration of lab equipment at Lawrence Livermore National Laboratory.

Secretary of Energy Ernest Moniz makes his opening statement during Apex Gold.
Facilitator Kevin O'Prey of FEMA led participants through the scenario-based policy discussion.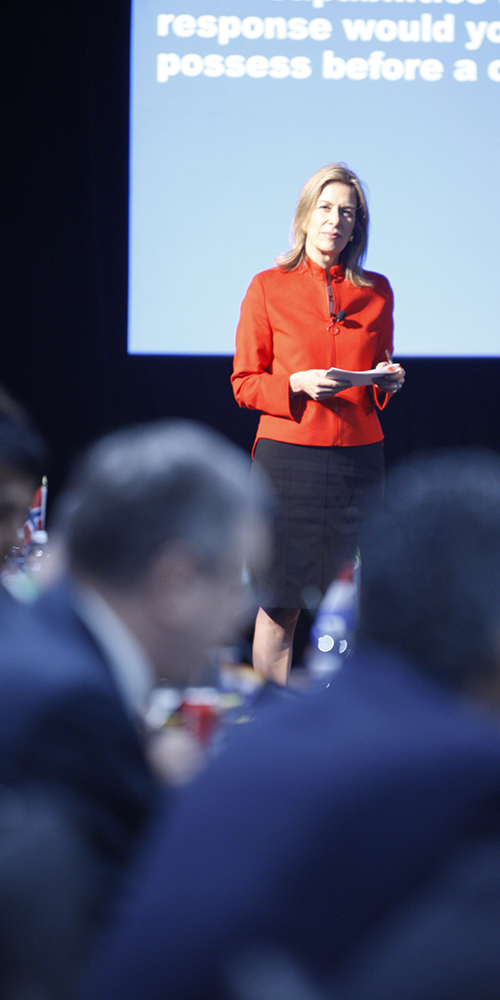 Deputy Secretary of Energy Elizabeth Sherwood-Randall leads a discussion during Apex Gold.