You are here
The Energy Jobs Strategy Council's activities are organized around three pillars:
Energy Jobs Data
Federal employment data collected by the Bureau of Labor Statistics  provides information on some, but not all, energy-related job categories.  As a result, consistent data on the relationship between shifts in energy consumption and energy-related employment has been elusive.  Specifically, the North American Industry Classification System codes and the Bureaus of Labor Statistics (BLS) data does not currently adequately count renewable energy, energy efficiency, and advanced manufacturing jobs.  As a result, the role of energy in the American economy is hard to measure and understand.
The Energy Jobs Strategy Council works to better define and enumerate energy jobs in order to recognize and forecast the scope, impact, and opportunity of energy employment in the American economy.  These efforts are captured in the Annual U.S. Energy and Employment Report.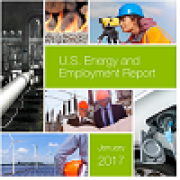 2017 US Energy & Employment Report and 2017 US Energy & Employment Report State Charts
Economic Development
The Department has a wealth of technical assistance tools and financial resources, supported in significant part through the Department's technology, innovation and research and development activities and can issue loans and loan guarantees to bring early deployment of new technologies to market and wide deployment of advanced vehicle technologies.  However, no explicit jobs strategy links DOE's technical and financial resources with the economic development planning that takes place at the state, local and regional level. 
The Energy Jobs Strategy Council works to better link DOE's financial and technical assistance resources to economic development planners at the regional, state and local level who need them. The JSC convenes interagency Federal working groups to drive results for state and local communities in energy jobs and manufacturing.
Learn more about DOE's Economic Development Initiatives:
POWER+
DOE Labor Working Group
Carbon Capture & Storage Working Group
Pittsburgh Infrastructure Project
Future of Nuclear Working Group
Brownsville/South Texas Initiative
Partnership for Quality Care
HBCU Clean Energy Coalition
South Carolina Promise Zone
DOE Vehicle Working Group
Commonwealth of Virginia
NREL Renewable Energy Assessment
Learn more about Place-Based Initiatives
Workforce Development
Changing technologies and rapidly aging energy workforces have created training and skilled workforce gaps in multiple energy and advanced manufacturing sectors.  The Quadrennial Energy Review predicts an additional 1.5 million jobs in energy sector by 2030.
The Energy Jobs Strategy Council works to address energy sector workforce needs by implementing programmatic workforce development solutions to fill the skills gap that exist throughout all energy sectors; leveraging existing DOE work-based learning programs; collaborating with other federal agencies through the Inter-agency Skills Working Group and industry partners; and working to overcome barriers faced by disadvantaged individuals in accessing opportunities.  The Council analyzes the jobs skills necessary for entry- and mid-level jobs in the energy sector, and mapping career pathways for upward mobility.  The ultimate goal is to ensure a pipeline of qualified workers by deploying workforce development initiatives focused on job-driven training, with particular emphasis on underrepresented populations, veterans, and disadvantaged communities.