You are here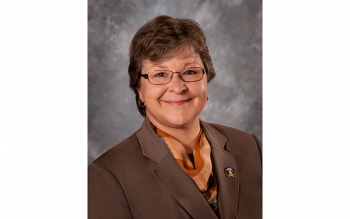 Chairwoman Karen Diver, Fond du Lac Band of Lake Superior Chippewa (MN)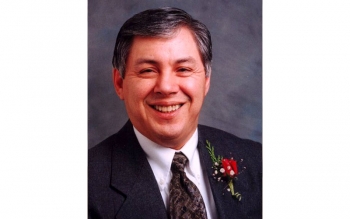 Mayor Reggie Joule, Northwest Arctic Borough (AK)
Change doesn't happen on its own. It's led by dedicated and passionate people who are committed to empowering Indian Country to energize future generations. Leading the Charge is a regular Indian Energy Beat newsletter feature spotlighting the movers and shakers in energy on tribal lands.
This month we had the opportunity to speak with Chairwoman Karen Diver, Fond du Lac Band of Lake Superior Chippewa (MN), and Mayor Reggie Joule, Northwest Arctic Borough (AK). As members of the State, Local, and Tribal Leaders Task Force on Climate Preparedness and Resilience, Chairwoman Diver (Diver) and Mayor Joule (Joule) are tasked with providing President Obama with recommendations on removing barriers to resilient investments, modernizing federal grant and loan programs to better support local efforts, and developing the information and tools tribal communities need to prepare, among other measures.
Tell us about the expertise/insights/experience you bring to the table as members of the White House Climate Change Task Force.
Diver: The Fond du Lac Band went through unprecedented flooding in the summer of 2012. There was extensive damage to roads, infrastructure, and housing. During the event, there was no public response from any other jurisdictions. Luckily, the Band was able to make quick decisions to safeguard the community. We were unprepared, as were surrounding jurisdictions, to respond to crisis on the Reservation.
In addition to dealing with an extraordinary weather event, the Band has been working to reduce its carbon footprint, as well as exploring energy security through biofuels. We have been promoting community gardening and farm-to-school food service. We have been tireless advocates and regulators of clean water.
Joule: I am the mayor of a borough in northwest Alaska that is roughly 36,000 square miles, with a population of approximately 7,500 people. Almost all of the area is above the Arctic Circle. Most of the people—about 80%—are indigenous.
We've been living with climate change for a while, even before it became an issue of political and other interests. We've seen swings in temperature, and we've seen that impact migration patterns of our renewable resources, like, the caribou.
Another thing we're seeing, and have seen for some time, is threat of erosion in our coastal communities. In our borough, the community of Kivalina has been threatened with coastal erosion for some time. They've had a barrier rock put up to protect the community. But that's a short-term fix. The community needs to move. With the freezing coming later, that leaves some of our people exposed to the Chukchi Sea for longer periods of time. When it doesn't freeze normally and we get the fall storm surges, the protective ice buildup in the fall isn't there, so the communities are exposed to the ocean.
We're also seeing changes in our rivers. There is no road that connects any two of our communities, so a lot of transport is by air or by river. Some of the communities receive construction materials, groceries, and fuel by barge. Those barges can't make it to those communities because there's not enough water in the river. And we're not getting as much snow in winter and therefore not enough runoff during breakup to allow barges to get through, so fuel needs to be flown in. We have communities that pay approaching $11/gallon for heating fuel. And they pay almost the same amount for gasoline for snow machines and boats, the methods they use for harvesting their food sources. So it becomes very, very expensive for communities that don't have any economies to harvest the renewable resources that are there.
What are your top priorities and goals as members of the task force?
Diver: Overall, making sure that each set of recommendations coming from the committees of the task force include recommendations that are important to Indian Country. I am particularly interested in natural resource issues, and am currently serving as the co-chair of the Natural Resources and Agriculture Committee. Tribal treaty rights make the connection to the land a little different than for other communities, and it will be important for tribal perspectives to be reflected in the recommendations.
Joule: First there's the issue of life and safety. That's a priority. There's also the issue of subsistence, and our fish and game resources, and whether there are things we can do to mitigate those concerns. And because we're strapped with such high costs of living in our area, looking at whether there are ways we can help with those costs and be more responsive.
What do you see as the greatest opportunities to strengthen Native communities' resilience against the impacts of climate change?
Diver: This information will be forthcoming as the work of the task force continues. Mayor Joule and I will be working with each of the federal agencies that are working on the task force. We will be hosting webinars and listening sessions to gain feedback on each of the four pillar areas: 1) Disaster Recovery and Resilience, 2) Built Systems: Transportation, Water, Energy and Facilities Infrastructure, 3) Natural Resources and Agriculture, 4) Communities: Human Health and Community Development.
Joule: We've always been a resilient people. There mere fact that we've been able to live in our various environments throughout the years and not just merely survive is a testament to our ability to be resilient and adapt. But these changes though are coming so much quicker. One opportunity is using research and science to help us find ways to be more prepared. And the other is identifying mitigations and ways can we adapt.
What are your respective visions for the future of tribal energy development in Indian Country and Native Alaska?
Diver: That each Tribe can move toward energy reduction and/or energy production that respects its own traditions.
Joule: Trying to find that balance between reducing the cost of living through increased infrastructure while still protecting the environment and the natural resources. For us, our land is very important from a physical, emotional, mental and spiritual place. So when I say protect the environment, that's what I'm talking about. Because we are still—like many indigenous people throughout the country—people who have that relationship with the land and with the animals we've been blessed with. We were granted the gifts of renewable resources and nonrenewable resources, and they're our gifts, but they are also our responsibility. I hope in all of this—even though we have the smallest voice because we are small in population—I hope that on our task force Chairwoman Diver and I present things in such a way to enlist the support and help of governors and municipal leaders, and that there's a sense that we've tried whatever we can to make sure the challenges and opportunities facing indigenous people in this country are heard and accommodated. I've served 16 years in the legislature and had some opportunities through that process to focus on some of these issues. But now that I'm back home, they are front and center.
***
To provide direct feedback to Chairwoman Diver and Mayor Joule on recommendations for the Task Force to consider, register for our Climate Change Task Force Webinar Series. 
For more news on actions to accelerate energy development and address climate change in Indian Country, read the full Spring/Summer 2014 issue of the DOE Office of Indian Energy newsletter, Indian Energy Beat.