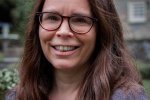 Dr. Jennifer Wilcox
Biography for Jennifer Wilcox, Principal Deputy Assistant Secretary for Fossil Energy and Carbon Management
more by this author
Prepared Remarks of Acting ASFE Dr. Jennifer Wilcox at the Carbon Utilization Research Council on April 30, 2021
Thank you Shannon for the introduction. Good afternoon all. I appreciate the opportunity to be with you today, and want to give a big thanks to CURC, Clean Air Taskforce, Third Way, Bipartisan Policy Center, Carbon Capture Coalition, and ClearPath for convening us and opening up a space to discuss the critical role that carbon capture and removal technologies are playing and will play in our mission to achieve net-zero Emissions.  
I want to start off by focusing on what we're doing at the Department of Energy, and specifically, in the Office of Fossil Energy and Carbon Management, to advance the Biden-Harris Administration's mission to get us to net-zero carbon emissions by 2050.
That mission – and the work required to achieve it – is more urgent than ever before. We have little time left to avoid some of the worst impacts of climate change.
Reducing, removing, and avoiding greenhouse gas emissions are indispensable to meeting that challenge.  And that applies not just to the ways we develop, deliver, and use energy, but also to our industrial sectors.
Research, development, demonstration, and deployment of decarbonization technologies will drive the energy transition needed to get us to net-zero by 2050.  And CCUS and carbon dioxide removal are indispensable to this effort. 
Although not nearly enough, we have seen some progress on CCUS over the past decade.  For example, in their recent CCUS status report, the Global Carbon Capture and Storage Institute noted that in 2020 there were 65 commercial CCUS projects in various stages of development worldwide – a 33 percent increase over 2019.
Many of these projects are here in the United States, and the team I get to lead at the Department of Energy has been at the forefront of these accomplishments. Of course, there are still challenges to these technologies – including, most notably, a shortage of policies that help to make carbon capture and dedicated storage economically viable. But through increased demonstration and deployment supported by our office, we're making progress on driving those costs down through learning by doing.
Importantly, while we focus on the work needed to scale these critical technologies , we must also  incorporate a new way of thinking, where environmental justice, equity, and workforce development are at the center of our work. To put it in President Biden's words, we have an opportunity to build back better – to build and deploy these important technologies in a better way than we have done previously. To incorporate and engage local communities – especially those that have been  disempowered –and engage them in the decision-making process.
For example, it's not just determining what technologies we need, but we also need to choose carefully where to site projects. We need to recognize that they must be sited in locations where there is support for those projects, community involvement, and real benefits for the surrounding populations.  
So, not only will the Office of Fossil Energy and Carbon Management continue our important RDD&D, we'll also help drive the equitable distribution of project benefits to disadvantaged communities,  and I'll talk more about in a few minutes.
But first, let's look at some of the technology approaches we'll be pursuing to reach net-zero emissions by mid-century, starting with point source carbon capture.
As you know, this Office has invested a great deal of time and resources in cleaner coal. But it's fairly clear that carbon capture may not make economic sense on the remaining existing fleet of coal fired power plants in the US – plants that are mostly based off of subcritical efficiency boilers and nearing retirement over the next decade. 
On the other hand, carbon capture on committed emissions infrastructure like natural gas fired power plants that likely won't reach retirement age over the next decade may be good candidates for CCUS – and we're exploring the deployment of these technologies on natural gas systems in addition to co-firing with biomass waste where supply chains are sustainably sourced.
So, we're making headway but we have a lot work to do to achieve at-scale deployment of CCUS in our energy systems.  But, as critical as it is, that's just one pathway that we need to pursue to achieve net zero.  The reality is that we need an economy-wide effort to get to where we need to be.  That's why we are also looking at how we can apply our technology solutions to help decarbonize industrial sectors as well.  
In fact, moving  forward, we want to take carbon capture out of its silo and leverage some of the work already being done by our Carbon Management team to expand the potential of carbon capture and CO2 conversion to focus more on deployment and toward the development of low-carbon products like cement and concrete, steel, paper, fuel, nylon, and polyester.
And related – in terms of synthetic fuels - sourcing low-carbon hydrogen will be critical for the production of fuels and chemicals with CO2 as a feedstock, and there's significant potential in applying carbon capture to help advance a low-cost and low-carbon hydrogen economy. Just this past year, DOE selected and funded eleven CO2 utilization projects. Seven of those projects are focused on synthesizing various chemicals such as ethylene, propylene, and formic acid from CO2 and hydrogen, or hydrogen-containing feedstocks.
As we take carbon capture out of its silo, we also need to rethink the way we view its cost – as an incremental addition to an overall product – whether it's a bridge made with low-carbon cement or a runway at an airport, in which the sand and gravel is replaced with a synthetic analog that can lock away CO2 permanently – the value of the low-carbon product is increased, but again - the incremental cost of carbon capture on the final product is a small fraction.
So, there's great potential for CCUS to help drive an economy-wide strategy to get to net-zero.
But it's clear that both carbon removal and decarbonization will be needed to meet climate goals, and we want to be careful how we distribute resources and funding across the sectors.
If we're presented with the option of 1) avoiding the carbon emissions to begin with or 2) pulling it back out of the atmosphere, we should always choose #1 because it'll be cheaper and easier – which translates to less energy, less land, and less water – fewer of Earth's resources – and always the less carbon we have to manage, the better off we'll be from a climate perspective. 
And to achieve net zero we need carbon dioxide removal approaches that can permanently remove CO2 from the accumulated pool in the atmosphere. And that's where our direct air capture initiative can play an important role.  Separating CO2 from the atmosphere has some aspects that overlap with point source capture, which has been a significant part of the Office of Fossil Energy's CCUS R&D program – both in terms of chemistry and the separation processes. 
As part of a broader DOE effort to help develop direct air capture, we're leveraging a lot of the work we've been doing on CCUS to help advance that technology.
There are additional carbon removal approaches that merit more attention, things like enhanced weathering and mineral carbonation, that the Office of Fossil Energy and DOE as a whole is also focusing on. And related, work is also underway in the area of CO2 mineralization in ultramafic like basalt, in addition to tailing waste associated with the mining industry.
So, that's a snapshot of the technology pathways we're exploring.  But I want to circle back to what I said earlier about the holistic view we want to take when deciding where to site demonstration and deployment projects.  
For instance, when coupling carbon capture to storage, we want to choose regions where dedicated storage opportunities exist such that the success of the capture project is not tied to the price of oil – and that there's local stakeholder support for the project with a central aim of providing affordable clean energy in addition to good-paying jobs.  
When using fossil fuels and pursuing carbon management strategies, we also have to be vigilant in examining their impacts on communities and ensure we don't repeat past mistakes. And we have to help those communities who've been disproportionately impacted by environmental injustices.
That's why President Biden is prioritizing a whole-of-government approach to address these  injustices, both past and present – and he's committed to making that approach central to all federal climate action.  To that end, this administration is working on the Justice40 Initiative to deliver 40% of the overall benefits of climate investments to disadvantaged communities. These investments will make sure the communities who have been impacted the most from pollution are first to benefit.
For us at DOE, that means that we'll work at every level to address the disproportionate health, environmental, economic, and climate impacts on disadvantaged communities. DOE's new deputy director of Energy Justice in the Office of Economic Impact and Diversity will lead this effort, and will implement the Justice40 Initiative within DOE.  And our office will work with them, as well as DOE's new jobs office and others across the Department, to make this happen.
That's an overview of what we're doing in the Office of Fossil Energy to advance the Administration's commitment to meet the climate emergency and put in place a sustainable and fair net zero carbon economy.
We all know that it won't be easy. This kind of transformational work never is.  It's always challenging, and it requires collaboration across government, academia, and industry.  We at the Department of Energy are committed to working with all of you  to advance CCUS and CDR technologies – and the opportunity to engage in discussions like this to further that effort.
I appreciate the opportunity to take part in today's briefing, and implore you all to continue to participate as this important series continues. Thanks.