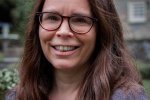 Dr. Jennifer Wilcox
Biography for Jennifer Wilcox, Principal Deputy Assistant Secretary for Fossil Energy and Carbon Management
more by this author
Remarks of Acting Assistant Secretary for FECM Dr. Jennifer Wilcox as prepared at Ground Water Protection Council on September 28, 2021
Good afternoon.  It's good to be with you today.
I appreciate the opportunity to take part in this year's forum , and I welcome the chance to talk to you today about what the Biden-Harris Administration – and particularly the Office of Fossil Energy and Carbon Management within DOE – is doing to tackle the climate crisis and transition to net-zero carbon economy by mid-century.
And many of you here today play a critical role in ensuring the safety and environmental integrity of carbon dioxide capture and reliable geologic storage.
So, I want to thank the GWPC for inviting me to be with you today – and thank you to everyone for joining us.
I want to start by noting that there have been some significant changes in our office at the Department of Energy.
In July, we changed the name of our office from the Office of Fossil Energy to the Office of Fossil Energy and Carbon Management.
And just a couple weeks ago, we reorganized our office to refocus our R&D priorities significantly on climate change concentrating on research, development, demonstration, and deployment priorities that will pave the way for achieving net-zero carbon emissions by mid-century.
These priorities include:
Expanding the reach of carbon capture and storage technologies;

Investing in carbon dioxide removal technologies to remove carbon emissions from the atmosphere;

Reducing methane emissions from coal, oil, and gas production and transport;

Helping to advance a clean hydrogen economy; and

Developing domestic sources of the critical minerals that will be required in a clean energy economy.
This mission – and the work required to achieve it – is more urgent than ever before.
The UN's Intergovernmental Panel on Climate Change recently released its sixth assessment report, and the news is sobering – absent deep cuts in carbon dioxide emissions, average global temperatures will exceed 2 degrees Celsius above pre-industrial levels. 
And the report couldn't be clearer – humans have definitively caused dramatic climate change and 'a new normal' era of extreme weather isn't just on the horizon – it's here, as we've seen across the country with severe impacts associated with more frequent and intense storms, droughts, and wildfires.
So, we have an urgent, but shrinking, window of opportunity to limit the harm done to our most vulnerable climate populations.
For our part, the Office of Fossil Energy and Carbon Management's mission centers around investments in technological readiness that helps ensure clean and affordable energy, while helping facilitate a just and sustainable transition toward a net-zero carbon economy.
So, a lot of what we do is about managing carbon, but it's more than just carbon – one of our 2 reconfigured R&D offices (Resource Sustainability) is focused on limiting and cleaning up the environmental impacts of fossil fuel extraction while our second office (Carbon Management) is focused specifically on carbon – the emissions associated with power and industrial sectors and legacy emissions in the atmosphere coupled to the conversion or permanent storage of CO2 to reduce negative climate impacts.
The good news is that we're seeing a lot of support from the White House and in Congress for our mission, including provisions in the President's Build Back Better Agenda and the Bipartisan Infrastructure deal that will create clean energy jobs, combat climate change, and support more resilient and healthier communities.
As we continue to work with Congress to initiate the R&D initiatives authorized in the Energy Policy Act of 2020, we're also thinking about and planning for new clean energy projects that may be included in the Infrastructure bill, including CCS projects.
The success of these projects isn't only about getting them off the ground – we must also make sure they are done in an environmentally responsible manner, achieving greenhouse gas reductions while minimizing any impacts to human health and the environment.
Technology solutions will have to be deployed across the economy – from the power sector to the manufacturing sector, and beyond.
And that will require an all-of-government approach and involve close collaboration between DOE, EPA, and other agencies along with industry – and with state regulators. 
So, let's look first at the power sector.
Coal and natural gas still provide most US electricity, at roughly 60% of electricity generation today.
In 2019, emissions from these sources represented 1.6Gt of CO2 emissions, or ~ 25% of total US CO2 emissions, and more if methane emissions are included. Based on preliminary data for 2020, CO2 emissions by the U.S. electric power sector were 1.4 Gt, or about 32% of total U.S. energy-related CO2 emissions. 
The units with retirement ages past 2035 (mostly natural gas and some coal plants) represent 210 GW and by retrofitting w/ carbon capture and storage (or CCS) could avoid collectively 5-6 Gt CO2. Avoiding emissions will always be less expensive than having to pull the CO2 back out of the atmosphere. 
So, while we continue to rely on fossil fuels to meet our increasing energy demands, it's critical that we minimize their environmental impacts and decarbonize the existing infrastructure expected to persist through mid-century.
And that will require carbon capture and reliable and dedicated storage.  
Starting with carbon capture – specifically, point source capture.
For the past two decades, we've focused on investments in the power sector, particularly coal-fired power plants.
Going forward, we want to expand carbon capture into the natural gas space and in industrial sectors like hydrogen production, and cement and steel production.
And earlier this year, we made available $75 million for R&D and FEED studies for carbon capture and dedicated storage on natural gas power plants and industrial facilities. 
So, we're leveraging work we're already doing to expand the potential of CCS and CO2 conversion to focus more on deployment and toward the development of low-carbon products like cement, steel, chemicals, and fuels.
And in particular, for the production of synthetic fuels and chemicals with CO2 as a feedstock, the sourcing of low-carbon hydrogen will be critical and there is significant potential in applying carbon capture to help advance a cost-effective and low-carbon hydrogen economy.
In fact, one of our major CCS demonstration projects in Port Arthur, Texas– is successfully combining carbon capture with steam methane reforming to produce hydrogen. For a single production stream, the project can capture over 90 percent of the CO2 for the production of clean hydrogen.  The project has captured over 7 million tons of CO2 and has stored it deep underground since 2013.
So, we know how to do this.  The issue is that we need to think more broadly than just about carbon capture for hydrogen production – we also need to think about the supply chain – the natural gas that goes into the steam methane reforming unit, for instance.  And that supply chain today isn't leak tight.
That doesn't just apply to hydrogen production – it's also true for the power sector, for instance. 
When we look at coal extraction and the supply chains for natural gas, we recognize that there are methane emissions associated with these resources.  That's why we're also investing in approaches to reduce methane leakage associated with supply chains –natural gas in particular, but it also applies to oil production and abandoned and active coal mines.
This approach takes us beyond the idea of just drawing a box around the unit where we need to manage the carbon – we want to draw box much larger, around the supply chains that go into those units, whether we're producing energy or a product.
What we're looking at then, is stacking various approaches to achieve deep decarbonization. 
Carbon capture will play an indispensable part in that effort, and we can leverage data from Petra Nova and other investments we've made in CCS on coal to expand the potential of carbon capture to help decarbonize other industrial sectors.
But it's clear that to achieve net zero we will also need carbon dioxide removal approaches to permanently remove CO2 from the accumulated pool in the atmosphere and develop low carbon supply chains for industry. And that's where our direct air capture initiative is playing an important role.
So, we're also leveraging a lot of the work we've been doing on carbon capture to help advance direct air capture technology.
Whether CO2 is captured from a point source or through direct air capture technologies, secure and reliable CO2 storage is critical to helping us meet our climate goals.  Ultimately we will need to safely store CO2 on the order of gigatonnes in deep geologic formations and ensure that is done in a way that protects ground water and drinking water resources.
Fortunately EPA and state regulatory agencies are developing expertise and experience in geologic storage of CO2 under Class VI of their Underground Injection Control Program. 
Class VI permitting is vital for CO2 injection projects, and we will continue to work closely with EPA to provide technical support as needed.
FECM is focused on improving storage and operational efficiency – as well as our understanding of overall cost and de-risking strategies to reduce these costs. These are all critical to enabling and supporting a CCS industry that is safe, economically viable and environmentally responsible.
Building on our Regional Initiatives and CarbonSAFE program, our goal is to demonstrate secure and reliable storage through field projects that advance characterization of storage complexes in regions that have known storage capacity – but also in regions where the storage resource potential is more prospective.
And we're aiming to expand carbon storage demonstration so that we have more projects distributed across the US where it is feasible and has community support.
We also need to expand existing CO2 pipeline networks to move higher volumes of CO2 from capture facilities to storage sites.  DOE and industry are considering how CCS "hubs" could be created in the US to geographically optimize capture, transportation, and reliable storage of CO2.
We're also looking at how to build from and possibly re-purpose existing oil and gas infrastructure.  As you know, the oil and gas industry has a long history of CO2 injection with thousands of miles of CO2 pipelines servicing enhanced oil recovery projects.
Some existing enhanced oil recovery projects may be able to safely transition over time to higher-volume storage operations which could require a transition from Class II to Class VI permitting, depending on changes to the operation and risks of the projects. 
EPA and states will be responsible for making those decisions, but DOE can help evaluate the technical considerations when transitioning enhanced oil recovery operations and work with EPA to identify factors that need to be addressed to minimize the risks of these types of projects.
Part of our CCS R&D includes engagement with regulators through our National Risk Assessment Partnership – or NRAP – program.
I know a large portion of the agenda of this meeting is focused on NRAP and I want to say I'm very grateful for the input and support from EPA and other stakeholders in the development of this important risk management toolset .
DOE is also working with EPA to provide EPA access to experts across the national lab complex.  The national labs have geologic expertise, modelling expertise, and decades worth of experience with CCS projects. These experts will provide independent technical advice on Class VI permits.
I know that there are also oil and gas regulators here today and FECM wants to help tackle methane emissions in the natural gas sector.
Recall that fuel switching from coal to natural gas roughly cuts CO2 emissions in half, but if the supply chain of that natural gas is not leak-tight, the emissions could be greater than coal.
So, we're also developing the materials, sensors, and approaches we need to ensure that the natural gas supply chain infrastructure in the US leak-tight.
Our office is also working on creating innovative solutions to reduce flaring and venting, including alternative uses for the "stranded" gas, through mobile conversion technologies that can be deployed to the field and either convert the gas to a higher-value product or an energy resource to be used in the field or in neighboring communities.
Overall, we're pursuing a lot of exciting technology pathways to address the climate crisis and reach a net-zero carbon economy by 2050.
While we focus on the work needed to scale these critical technologies, we must also incorporate a new way of thinking, where – as I mentioned at the beginning – environmental justice, equity, and workforce development are at the center of our work.
We have an opportunity to build back better – to build and deploy these important technologies in a better way than we have done previously; to truly address concerns and design effective, ethical deployment that can enable a safe climate future, with particular attention to including historically disempowered communities in the decision-making process.
President Biden is prioritizing a whole-of-government approach to address injustices, both past and present – and he is committed to making that approach central to all federal climate action. To that end, the Administration is working on the Justice40 Initiative to deliver 40 percent of the overall benefits of climate investments to disadvantaged communities.
And as we adapt our focus, we will continue to promote, job-preserving and job-creating investments in the communities that have worked so hard to supply our energy demands. 
That includes helping those in fossil energy industries translate their skills to new clean energy jobs in their communities. 
In fact, DOE recently launched the Local Energy Action Program (or Communities LEAP)—an initiative designed to help environmental justice communities and communities with historical ties to fossil fuel industries take direct control of their clean energy future.
This new program provides support for communities to develop locally-driven energy plans and leverage public and private sector resources to reduce local air pollution, increase energy resilience, lower utility costs and energy burdens, and create good-paying jobs.  And CCUS is an important component of Communities LEAP.
So, we're seeing important movement on our priorities but still have a lot of work to do – and we in the Office of Fossil Energy and Carbon Management – or even the Federal government – can't do it alone.  As with any transformational endeavor, achieving a clean energy economy and net-zero carbon emissions by mid-century will require partnerships between the Federal government, academia, industry, and States.
That means we will need your knowledge and expertise, and I look forward to working with you as we move in this new direction. 
Thank you