You are here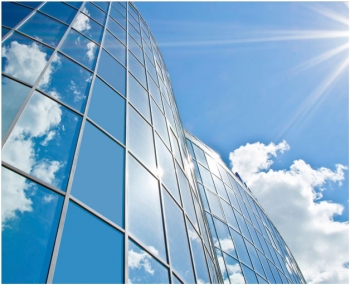 Incorporation of a new CO2 sorbent into commercial heating, ventilation, and air conditioning (HVAC) systems will save energy and reduce operating costs. HVAC is one of the largest consumers of electric power in the United States, responsible for more than half of the load on the electric grid in many major cities. NETL work has led to a patented CO2 sorbent that has now been licensed commercially.
At the National Energy Technology Laboratory (NETL), scientists and engineers work every day to develop solutions to the nation's energy problems. Technology transfer makes it possible to move NETL innovations from the lab to the marketplace, benefitting the greatest number of people as quickly and efficiently as possible.
NETL has a compelling history of successful technology commercialization.  Here's one striking example: Three decades of NETL-supported research led to the commercialization of horizontal drilling, hydraulic fracturing, microseismic monitoring, and other technologies needed to recover hard-to-reach shale gas plays. As a result, shale gas production accounted for nearly one third of the dry natural gas produced in the United States in 2011 and has saved the U.S. economy nearly $400 billion over the last 4 years.
More recently, NETL has licensed one of its patented carbon dioxide (CO2) sorbents – originally designed to pull CO2 out of power plant emissions – to Boston-based start-up company EnVerid Systems. EnVerid is now testing the sorbent for use in its EnClaire™ air-recirculation system, designed to increase the energy efficiency of commercial heating, ventilation, and air conditioning (HVAC) systems by reducing the energy drains of these systems while efficiently maintaining air quality.
Another exciting start-up company using an NETL-developed technology is Pyrochem Catalyst Corporation. An estimated 2.2 million diesel trucks haul goods across the United States. Each year, long-duration idling of truck and locomotive engines produces an estimated 11 million tons of CO2, 200,000 tons of nitrous oxide, and 5,000 tons of particulate matter. Developing catalysts to convert diesel fuel to hydrogen would lead to a cleaner, more efficient power source for trucks and could open the door for fuel cells use in other areas. To help realize this vision, Pyrochem is now further developing a fuel-reforming catalyst developed by NETL that outstrips the capabilities of current catalysts to produce hydrogen from diesel fuel.  The company's goal is to develop the technology for fuel cell auxiliary power units that could be used in long-haul truck transport, military applications, and recreational vehicles.
Although NETL is known as "the ENERGY lab," NETL technology has applications that extend beyond energy and the environment. For example, in 2000, NETL was asked by Boston Scientific to develop a new material they could use to improve coronary stents. Working in cooperation with Boston Scientific, NETL researchers created a unique platinum-chromium alloy that laid the groundwork for a new line of stents that are strong, flexible, and highly visible on x-ray. Boston Scientific's PROMUS® ELEMENT™ and ION™ stents, made with the new alloy, were brought to market in 2010. Today, they are the premier stent line in the world.
NETL's technology portfolio contains a broad range of innovations that have resulted from research in areas such as carbon capture and sequestration, mercury capture, fuel cells, sensors and controls, computational modeling, and materials science. The ways a technology traverses from laboratory to marketplace can be varied, but NETL is fostering innovation in multiple ways to match the most promising new inventions and technologies to the right people and companies to commercialize them.  And in the process, they're helping to provide immense benefits to millions of Americans.