You are here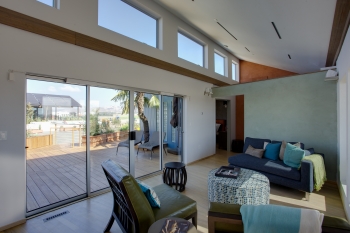 Passive solar design uses carefully designed overhangs and reflective coatings on windows, exterior walls, and roofs to provide comfort during the cooling season. | Photo courtesy of Jason Flakes, U.S. Department of Energy
There is a misconception that using solar energy for your home means you need photovolatic (PV) modules on your roof, a converter, and other technological gadgets. And while a solar electric system does need these things, you can also harness solar energy in other ways, too, like through passive solar home design.
Passive solar design takes advantage of a building's site, climate, and materials to minimize energy use. A well-designed passive solar home reduces heating and cooling loads through energy-efficiency strategies, which means lower heating and cooling costs. Using passive solar design to heat and cool your home can be both environmentally friendly and cost effective. In many cases, your heating costs can be reduced to less than half the cost of heating a typical home!
Let's Get Down to the Basics
A passive solar home collects heat as the sun shines through south-facing windows and retains it in materials that store heat, known as thermal mass. Well-designed passive solar homes also provide daylight all year and comfort during the cooling season through carefully designed overhangs and reflective coatings on windows, exterior walls, and roofs.
To be effective, a passive solar home needs some basic elements that work together:
Properly oriented windows
Thermal mass
Distribution mechanisms
Control strategies.
Other Things to Consider
Before adding solar features to your new or existing home, consider also implementing energy-efficient home design. A home energy audit is always a great place to start.
If you're planning a new passive solar home, a portion of the south side of your house must have an unobstructed "view" of the sun. Consider possible future uses of the land to the south of your site—small trees become tall trees, and a future multi-story building can block your home's access to the sun. In some areas, zoning or other land-use regulations protect landowners' solar access. If solar access isn't protected in your region, look for a lot that is deep from north to south and place the house on the north end of the lot.
Just a Few More Tips
To ensure optimal sunlight, be sure to keep your south-facing windows clean. Also make sure that furniture and other objects do not block sunlight on concrete slab or heat-absorbing walls.
For more on solar energy at home, check back into Energy Saver and the Energy Saver Facebook during the month of October. We've already covered several topics like solar energy basics, installing solar energy at home, and financial incentives for solar energy, just to name a few!
If there are any topics you'd like to hear about, click on the "tell us" box on the top of the page or use #EnergySaverSolar on social media, and we will try to incorporate your questions in future blogs!