You are here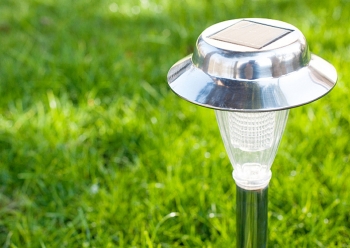 Outdoor solar lights use solar cells, which convert sunlight into electricity, and are easy to install and virtually maintenance free. | Photo courtesy of ©iStockphoto.com/ndejan
One of the best things about summer to me is all the time I get to spend outside on my front or back porch, especially in the evenings, when I often will convene with my neighbors and enjoy the slightly cooler evening air.  These days, outdoor space is almost like an extension of my living room, and it's certainly nice to have great ambiance and lighting in your outdoor areas.  So, how do you go about finding energy efficient outdoor lighting?  One great place to start is with outdoor solar lights!
Outdoor solar lights use solar cells to light areas such pathways, and they are both easy to install and  almost maintenance free!  Wall mounted lamps, free standing lamp posts, and security lights are also frequent uses of outdoor solar lighting.  These lighting fixtures can be used almost anywhere in the United States, although it's best to place them in areas that will receive a lot of sunlight in order to operate at optimum capacity.  Be sure to check the product labeling for "nightly run time" in order to determine if the light chosen will meet your specific lighting needs.
Of course, ambiance isn't the only consideration when choosing outdoor lighting, and many people need outdoor lighting for security and utility purposes.   If those are your reasons for choosing outdoor lighting, you might consider the following things:
Flood lights with motion sensors are a great security option that will save energy by not needing to be on all evening
Consider timers for decorative lighting or outdoor security lights
Use energy efficient LED or fluorescent lights in place of incandescent lights
Look for the ENERGY STAR® rating on lighting options in order to get the highest quality, most energy-efficient lighting options available.
For more information, see our Guide to Energy-Efficient Lighting and learn more about Lighting Choices to Save You Money.  Hope your summer starts off great, and you get to enjoy your outdoor space as much as I do!