You are here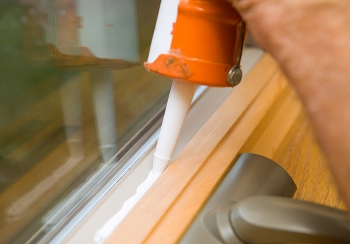 Caulking is an easy way to reduce air leakage around your windows. | Photo courtesy of ©iStockphoto.com/BanksPhotos
The beginning of spring marks the point in the year when I'm cleaning, purging the house of things I no longer need, and updating my home on needed repairs. This year, I'm focusing on how to lower my energy bills through basic window maintenance. Here are some things I've discovered that can help reduce your energy bills:
Storm windows can reduce air leakage and improve the comfort of your home.
Caulking and weatherstripping are easy, budget-friendly fixes that can help reduce air leakage around your windows. 
Window treatments or coverings can help reduce heat loss in winter and heat gain in the summer.
In a lot of older homes, while replacing windows can be an expensive option, sometimes it's actually cost-effective to replace them, and that's because the windows eventually will pay for themselves through lowered heating and cooling costs. When choosing energy-efficient storm windows, be sure to take a look at the labeling and consult our guide to understanding the energy performance rating of windows. 
Caulking and weatherstripping can be easy to do as a weekend project. Use caulk for stationary cracks, gaps, or joins less than one-quarter-inch wide. Weatherstripping should be used on components that are moveable, such as doors and operable windows.
Window treatments and coverings such as awnings, blinds, and draperies can help aesthetically improve your home while providing energy savings. While ineffective at reducing air leakage or infiltration, it's often cheaper than replacing windows while reducing heat loss in the winter and heat gain in the summer. Check out some of Energy Saver's tips for window treatment options for your home.
Summer will be here before you know it, so I hope these tips help you make energy-efficient changes to your home this spring!