You are here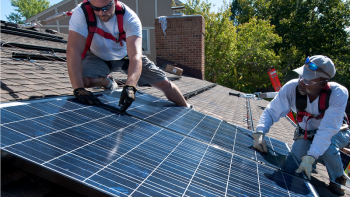 Installing solar panels requires the proper orientation and tilt, and it is best to use a professional contractor. | Photo courtesy of Dennis Schroeder, National Renewable Energy Laboratory
Did you know that enough solar energy strikes the Earth each day to power the world's total energy use?  That's a lot of energy! So it makes sense that you'd be interested in going solar, but is solar the best renewable resource for your home?
If you are considering a solar electric system, you need to first answer these questions:
Does my home have clear and unobstructed access to sunlight for most or all of the day, throughout the year?
Do I have a large enough roof or area to accommodate the system I need?
Does my community have any covenants in place that prohibit solar panels?
Is it worth the investment?
If you have enough sunlight, space, and money to invest in a solar electric system, and if there are no legal issues, you are ready to go. But before you go off and buy just any system, consider these three things:
1. The Right Contractor Matters
Your solar electric system or Photovoltaic (PV) system needs to be sized, sited, installed, and maintained correctly to achieve optimal performance. It is best to have a professional solar contractor install your system. Make sure your contractor is properly licensed or certified to work with PV systems, and check to see how many years of experience the company has. If you are interested in an off-grid system, be sure company representatives have previously installed a stand-alone system. (The same is true for on-grid systems as well.)
2. Size Matters
When installing a solar electric system, you'll have to figure out how big the system needs to be to meet your electricity needs. First, make sure you are already being as energy-efficient as possible; this means less energy needs to be generated and lower monthly bills! Next, think about how much energy you need your PV system to produce. The more energy you need, the larger your system could be.
PV systems rated between 1 and 5 kilowatts are generally sufficient to meet the needs of most home and small business owners. Check out the table here to see the roof area needed for different PV module systems.
3. Orientation and Tilt Matters
PV modules need to be oriented to gather the maximum amount of daily and seasonal sunlight. Typically in the northern hemisphere,this means the optimal placement is true south. However, you can face your PV modules up to 45 degrees east or west of true south without significantly decreasing performance. If you are planning to mount your modules on the roof, consider roof angle and condition, landscape features that could inhibit direct sunlight, and local weather conditions that may affect electricity production.
For more on solar energy at home, check back into Energy Saver and the Energy Saver Facebook during the month of October. We will have several blogs and posts dedicated to solar energy at home. These topics include solar energy basics, passive solar energy, and the financial benefits of solar energy, just to name a few!
If there are any topics you'd like to hear about, click on the "tell us" box on the top of the page or use #EnergySaverSolar on social media, and we will try to incorporate your questions in to future blogs!