You are here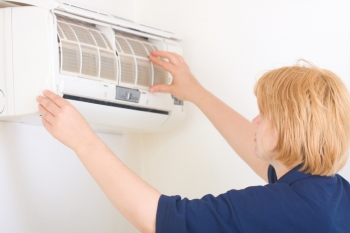 Keeping your air conditioner maintained can help save you money this summer. | Photo courtesy of ©iStockphoto/firemanYU
How quickly the weather changes!  This winter was long and grueling, but now that it's June, it's already time to start expecting the summer heat. And since cooling costs are expensive, you might want to see if you can save yourself a little money before the heat rolls in.
First off, you want to make sure your air conditioners are well maintained.  Poorly maintained units use more energy to do less work.  By doing some basic cleaning and maintenance, you can make sure that you keep your air conditioner in reasonable working condition.
And if you want to save even more, consider keeping your home a few degrees warmer this summer. If you have a programmable thermostat, you can take it a step farther and turn the heat automatically up when no one's home, while still having it be comfortable when you get back.
Finally, the Energy Saver website also has a list of common air conditioner problems that can help you identify basic issues you might encounter with your air conditioner.
A few steps now could help you save money all summer. And those little savings can add up!  So take a little time this year to check out your air conditioner, even if it might not be warm enough to turn it on yet.