You are here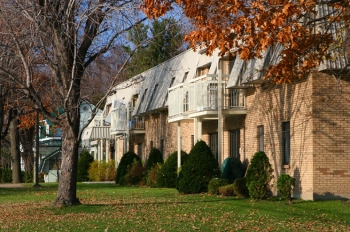 If you live in an apartment, you can still take some energy-saving steps this fall. | Photo courtesy of ©iStockphoto.com/buzbuzzer
A couple of weeks ago, my friend Rutherford told me that this month's electric bill for his three-bedroom apartment was $300.  It was August, so I'm sure that was part of it, but, still - $300 for just one month?
According to the U.S. Energy Information Administration (EIA), the average U.S. household electricity bill projected for June through August was expected to have a combined total of $395.  This figure is down 2.5% from last summer, represents the lowest average since 2009, and falls well below Rutherford's $300 for just one month. 
All of this got me thinking about the energy efficiency and weatherization measures that can be taken to reduce electricity use, resulting in cash savings.  Of course, the first things that came to mind were installing a more efficient HVAC unit or perhaps new windows.  But, as a renter, you can't just do those things.  Many of the most effective energy-saving measures must be addressed by (or at least done in coordination with) the property owner.  So what can Rutherford and his roommates to do to make sure this fall is not a repeat performance of this summer's energy bills?
Last week's nearly 100 degree weather in DC indicates that summer hasn't left us quite yet, but fall is still right around the corner.  The nights are cooler, everything tastes like pumpkin, and, even if you're not a football fan, you know that the pigskins are flying (assuming that you've looked at your Facebook feed in the past two weeks).  It just so happens that fall is when fans (and I don't mean the football variety) are most effective in lowering the temperature inside your house.  When you only need to cool the room a few degrees, fans are a great option because they use less energy than the air conditioner and make the room just as comfortable.  Just remember to turn the fan off when you aren't in the room.  After all, they cool people with increased air circulation - not rooms. 
While we're on the topic of turning off things that use energy when you aren't around, I'll remind you that it's important to unplug electronics when not in use.  The continuous drain on energy from "off" electronics adds up to approximately 5%-10% to the average residential energy bill.
Since the weather is generally beautiful in the fall, consider spending more time outside; perhaps have one last energy-saving picnic!  And since you'll keep your electronics and fans unplugged when not in use, the more time you spend outside, the greater your energy savings potential!