You are here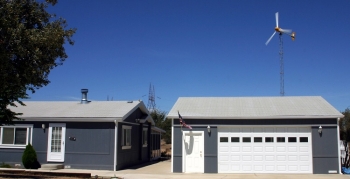 Interested in a wind energy system at home? Follow these important steps. | Photo courtesy of Joe Guasti, Bergey Windpower Co., Inc..
Wind energy systems can be one of the most cost-effective home-based renewable energy systems, and is a clean, renewable energy source. By investing in a small wind system, you can reduce pollution, avoid the high costs of extending utility power lines to your site, and avoid potential spikes in electricity rates. Before you make an initial investment in a wind energy system for your home, there are several important steps to determining if wind energy makes sense for you and your home.
Step 1: Decide whether to connect your wind turbine to the grid
Small wind energy systems can be used with an electricity system connected to the utility grid or in stand-alone applications. Here are a few things to consider for each:
A grid-connected system can reduce your consumption of utility-supplied electricity. If the turbine cannot deliver the amount of energy you need, the utility makes up the difference. When the wind system produces more electricity than the household requires, the excess can be sold back to the utility, potentially earning you money. A grid-connected system requires average annual wind speeds of at least 10 miles per hour. This type of system may be right for you if utility-supplied electricity is expensive in your area but the utility's requirements for connecting your system to the grid are not overly expensive.
A stand-alone system is ideal for homes, farms, or even entire communities that are far from the nearest utility lines. A stand-alone system requires an average annual wind speed of at least 9 miles per hour. This type of system may be right for you if a grid connection is not available or can only be made through an extension, and you have a strategy for effectively using wind resources to meet your power needs.
Step 2: Review potential legal and environmental issues
Before investing time and money, you may want to research potential legal and environmental barriers to installing a wind system. Your site may be subject to height restrictions or homeowner association rules. If you plan to connect your wind generator to your local utility company's grid, contact them to determine requirements for interconnections by small independent power producers.
Step 3: Assess your site's wind resource
The wind at your site needs to blow hard and consistently enough to make a small wind system economically practical. To determine if there is enough wind on your site, wind resource maps can be used to estimate the wind resource in your region. Of course, these maps are just a starting point—the actual wind resource on your site is influenced by the local terrain and can vary significantly over a small area. If the National Climatic Data Center does not have wind resource information about your location, you may wish to measure wind speeds at your location for a year. You can do this with a recording device called an anemometer, which generally costs $500 to $1500.
Step 4: Choose a wind system and components
Like any other major purchase, make sure to research manufacturer products, warranties, reviews, and prices to find the system that you are most comfortable with. Ask people with installations similar to the one you are considering about their experiences with the products' performance, reliability, and maintenance requirements.  All wind systems consist of a wind turbine, a tower, wiring, and the "balance of system" components: controllers, inverters, and/or batteries. Hybrid systems use additional equipment, like photovoltaic panels and diesel generators to ensure electricity is available at all times.
Step 5: Make a long-term investment decision
To determine if purchasing a wind system makes financial sense, you or your financial adviser should conduct a thorough analysis of electricity rates, interest rates, tax credits, rebates, and your local utility's buy-back rates. Check with your state's department of revenue, local utility, public utility commission, or local energy office for information about incentives in your state or municipality.
Looking for more information on energy efficiency and renewable energy? Check out the following resources:
También puedes leer sobre los siguientes 5 pasos importantes en español.