You are here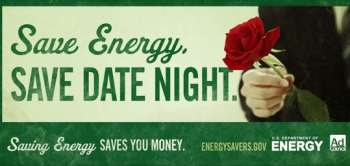 Saving energy allows you to spend that money elsewhere.
Valentine's Day. For many couples, it means cards, flowers, and prix fixe candlelight dinners. It also means for many couples a hefty withdrawal at the ATM to express their love. Fortunately, there are ways to save money by saving energy – even during the date – so you can spend the money you save on the things that really matter to your sweetheart. Here are five easy tips for those couples out there who want to save energy, save money, and save date night:
And last but not least, insulate your home, because as President Obama once said, "insulation is sexy."