You are here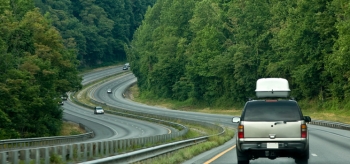 Driving efficiently can help you save money on gas this summer.| Photo courtesy of ©iStockphoto.com/HelpingHandPhotos
As the summer vacation season approaches, the prices on the gas marquee begin looming, posing a threat to potential summer fun.  But a variety of Energy Department tools can help you save money and use less gasoline when you travel.
FuelEconomy.gov offers a number of ways to help you keep down fuel costs.  Properly inflating your tires and removing excess weight from your vehicle before you go can increase your potential fuel economy.  Once you're on the road, observing the speed limit can make a big difference—every five miles you drive above 50 mph is like paying an extra $0.24/gallon for gas! 
To estimate what your fuel costs may be, you can use FuelEconomy.gov's Trip Calculator.  After you enter your starting point and destination, you can run the cost for one car or compare the fuel costs of up to three cars at a time.  For each car, the tool shows the miles per gallon (MPG), fuel used, and fuel cost on that specific route.  As vehicles differ in their city and highway mileage, the route you drive can make quite a difference! You can further customize your results by entering in local fuel costs or adjusting the MPG if you know you are a very fuel efficient (or inefficient!) driver. 
Driving an alternative fuel vehicle gives you the possibility of giving up gasoline altogether.  Whether it's a plug-in electric, natural gas, propane, or flexible fuel vehicle, the number of models that can run on alternative fuels is rapidly expanding. The Alternative Fueling Station Locator maps out more than 14,000 locations that offer alternative fuel or plug-in electric vehicle charging.  To see the stations closest to your current location, you can search by a specific address, town, or zip code.  The Plan a Route option allows you to see the stations available between a starting point and ending destination.  If you're on the road without a computer, you can use the mobile site or download the iPhone app onto your smartphone.  
With so many ways to save fuel on your road trip, your travel can be kind to both your wallet and the environment!