You are here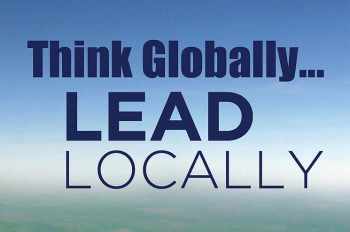 This year's theme for Energy Action Month is "Think Globally ... Lead Locally." | Image courtesy of the Energy Department.
With cooler weather upon us, you may have already started working on ways you can save energy during the fall and winter months. Now is the perfect time to focus on saving energy because you won't be doing it alone; October is Energy Action Month!
Last year, President Obama declared October Energy Action Month to encourage Americans to save energy, water, and money for American taxpayers. This year, the President is continuing to ask Americans to work together to strengthen U.S. energy security and build a more robust economy. Formerly known as Energy Awareness Month, October is now a time to not just be aware but to act. Below are some tips for how you can make a difference this month and during the rest of the year.
The fall and winter energy saving tips on Energy Saver are a great place to start. Work your way through the list to stay warm and comfortable, while saving energy and money.
Thinking about purchasing new appliances or electronics? Check out ENERGY STAR for guidance on buying efficient products.
 Want to encourage friends or coworkers to save energy? If so, you're right in line with this year's theme, "Think Globally … Lead Locally." The Federal Energy Management provides Energy Action Month and other energy campaign materials for federal agencies, and they are available for anyone to download and use.
Do you have other ideas on how to take action to save energy? Share with us the energy-saving actions you plan to take during Energy Action Month.