You are here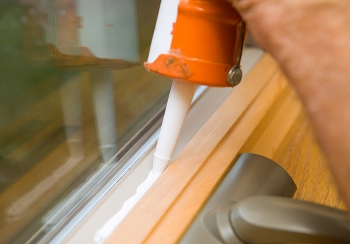 Applying caulk to a window frame prevents air leakage. | Photo courtesy of ©iStockphoto.com/BanksPhotos.
Labor Day might be over, but I'm not quite ready to give up on summer. It's still beautiful and warm and sunny, even though we're somehow only a couple of weeks away from the official first day of autumn. (September 22? Seriously? That's much too soon.)
But there's still time left, and there are lots of ways you can put it to good use. No one really wants to think about autumn when it's 80 degrees out, but you could use the nice weather to prepare your house for the coming season.
Here are some last-second things to think about:
Consider a home energy audit. These show you how your home is losing energy. Insulation, windows, and leaks can all lead to losing cool air in the summer—and hot air in the winter! And it certainly looks like a blower door test would be more pleasant when it's still nice out.
Try to find any air leaks. Sure, an energy audit would find these, but you can also do this yourself. Dealing with these now means you won't have to deal with cold drafts in the winter.
Look at ways to make your heating more efficient. Again, while no one wants to think about heating right now, wouldn't you rather work on it now? Then you can relax and be warm once the temperatures drop.
And that's just the tip of the iceberg. Just remember: We still have a few more weeks of summer, and you might as well put that nice weather to use while it's still here.