You are here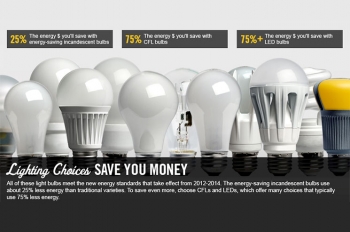 Smart lighting choices can save you money.
Pretty much everybody these days uses electric lighting to keep their households and businesses running during the day and night. Most of us take our electric lights – which make our offices more productive and our homes more comfortable and useful – for granted, and we only really only notice how integral to our lives they are when power goes out. But all of those lights consume energy. Lots of it, in fact.
Lighting uses about 10% of the energy consumed in the average home, costing well over $100 a year to operate annually. However, with a little upfront investment in energy-saving lighting, you can take a big bite out of that cost. Upgrading 15 of the inefficient incandescent light bulbs in your home could save you about $50 per year. Plus, most of the efficient bulbs have longer life spans, so you'll continue to save into the future. Watch this Energy 101: Lighting Choices video and browse the webpage below it to learn about the various energy-saving lighting types available today.
The lighting webpage on the Energy Department's Energy Saver website can help you select the most efficient lighting products for your home or business, including energy-saving halogen incandescents, CFLs, and LEDs. These energy-efficient light bulbs are available in stores now and are already helping American families and businesses save money by saving energy.
The lighting webpage also includes key information on selecting the right energy-efficient bulbs – based on the lumens, or brightness of light they provide – for your specific intended use. Watch the Energy 101: Lumens video to grasp the concept of lumens and learn how to use the Lighting Facts label, which compares brightness, lifetime, color, and other useful product features. This new way to shop for light will help you buy the right energy-saving bulbs the first time.
Lighting homes and businesses with more efficient products is one of the easiest ways to reduce America's reliance on fossil fuels and save money. By choosing the energy-efficient lighting options that are right for you, you can start cutting your spring energy bills starting today.