You are here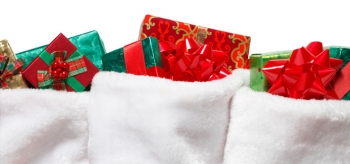 There are all sorts of small energy-efficient presents available for stuffing stockings this year. | Photo courtesy of ©iStockphoto.com/DNY59
Looking for some last minute stocking stuffers to complement the holiday gifts you've purchased for your loved ones?  We covered a few energy-efficient gifts earlier this week, but if you're still on the hunt for the perfect stocking stuffer, why not fill that stocking with gifts that will help your friends and family save energy and money all year!  Here are some ideas to get you started.
LED Nightlight: Nightlights can be important to keeping your family safe from trips and falls at night and keeping the kids' fears at bay. When purchasing one of your little one's favorite character this year, why not choose an option that will save you money? As Erik mentioned last week, energy efficient light bulbs (such as LEDs and CFLs) can save incredible amounts of energy and money throughout the year—and a nightlight is a fun, kid-friendly twist on a practical gift. An energy efficient light bulb can produce the same amount of light for a less money. It's really a no-brainer! 
Programmable Thermostat: Stocking stuffers aren't just for kids! Have you noticed a friend or family member who still has an "old-fashioned" thermostat? The kind that must be reset multiple times a day to save energy when the house isn't occupied, or one that no one in the household can remember to turn down in the rush to get out of the door in the morning? If these older-style thermostats are not monitored, the furnace kicks on and off all day heating an empty house. By giving a programmable thermostat they will be able to set a pre-set schedule to automatically keep the house a comfortable temperature by while saving energy and money. By turning the thermostat down 10 to 15 degrees for just 8 hours a day, the average consumer can save up 5%-25% on the annual heating bill!
Low-Flow Shower Head: Saving energy and money isn't just about using less electricity and natural gas. Low-flow fixtures conserve energy as well as water, another valuable resource. Reducing the amount of water used while taking a shower with an easy-to-install low-flow shower head will conserve hot water and lower your water heating costs, as well as your municipal water bill. 
Solar USB Charger: Solar USB chargers are cool gadgets that can charge anything with a USB outlet. Take this opportunity to slip one in a stocking, and use it to teach the receiver about solar and other forms of renewable energy. 
Film Window Insulation Kit: If you have ever had to pay a heating bill during the winter in the northern half of the country while living in a dwelling built several decades ago, your heart (and wallet) most likely does a pitter-patter at the sight of a film window insulation kit. These kits are the fast and easy way to weatherize your home if you cannot replace a drafty window. The kits contain tape and shrink wrap, and with a hairdryer, they are easy to install and help save energy immediately. They are very inexpensive and the perfect stocking stuffer!
Occupancy Sensor: Of course the best way to save energy and money is to remember to turn off the lights when you leave a room, but sometimes in the hustle and bustle of getting your family ready to go someplace, it's easy to forget to turn off a light or two in the house. The most common way to control lighting in buildings is with an occupancy sensor.  Occupancy sensors detect activity in a room and automatically turn on or off accordingly. They provide the convenience of having the lights turn on immediately upon entering a room and off when the room is no longer occupied.
Bus or Subway Pass: Do you know someone who is set in his or her ways of driving everywhere he or she goes? If you live in an area that has adequate public transportation, consider slipping a weekly bus pass into this stubborn citizen's stocking. Perhaps once he tries out the bus or subway for a week, he will realize that riding public transportation saves money on wear and tear on your car, and reduces the greenhouse gasses emitted while commuting, while providing an atmosphere to read the news or catch up on emails on your way into the office. Plus, if there is bad traffic, bus riders don't have to deal with the stress of stop-and-go, rush-hour traffic.  Before you know it, this public transportation convert will be slipping bus passes into his own holiday gifts next year.
Weatherstripping: Ok, so this probably isn't the most exciting thing to find in your stocking—especially if you are not a homeowner—but hear me out. Weatherstripping is a fast and effective way to seal small cracks and leaks around windows and doors. The gift-getter will be able to keep the warm air in and the blowing snow and cold out, leading to lower heating bills and energy saved this winter. Paying an unnecessarily high heating bill is way less exciting than weatherstripping.
Reusable Cup Cozy: If you know someone with a morning coffee-habit who frequents the local coffee shop on his or her way to work, consider giving him or her a reusable cup cozy. You can pick one up for a low cost (or better yet make one) and save 365 of those cardboard coffee cup sleeves from ending up in the landfill per year.  Also, have you ever been to the coffee shop in the morning when they run out of cardboard sleeves, and had to pop your cup into an additional cup? With a reusable cup cozy that won't happen again!