You are here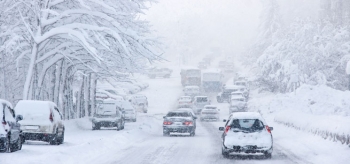 Make sure your car is ready for spring snowstorms. | Photo courtesy of ©iStockphoto.com/Irishka1
Ah, what a strange, snowy winter it's been. The northeast has been hit with several crippling snow storms. Washington, D.C., got enough snow a couple of weeks ago to shut down the city for a day. The Pacific Northwest got enough snow earlier this month that some cities declared a state of emergency.  I was in the middle of one of those storms when I found myself helping three people push an SUV over a speed bump. They were from Texas—they had never had to do much to their car for winter. But, I wondered, what should you do for your car for wintry weather? Was there a good list for that?
Thankfully, FuelEconomy.gov is has an excellent article on fuel economy in cold weather. And if that's not enough, they also have several lists of gas mileage tips with common-sense guidance you can use year round.
Now that we're moving so-very-slowly toward spring, I'm hoping these tips won't be necessary much longer. But if last week's storms have melted enough to let you onto the roads, why not check up on your car? You might be able to improve the MPG and save yourself a few dollars.