You are here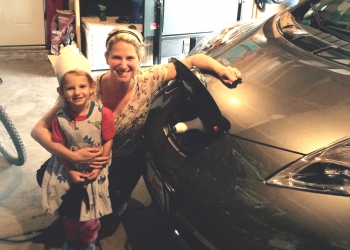 Plugging in an electric car is so easy that my 3-year-old can do it.
Ever since we purchased an all-electric vehicle about six months ago, I've been flooded with a string of inquiries from curious friends and family members. They have so many questions about what it can and can't do. It turns out there are a lot of misconceptions about plug-in vehicles, so I'm here to set the internet straight. Take that, Kim Kardashian!
CAN IT CHARGE WITH A REGULAR OUTLET?
Yes! I didn't realize our car would plug into the same type of outlet that we use for our microwave, but sure enough. The typical 120 volt (V) household outlet can provide a Level 1 charge for an electric car. You can install a 240 V outlet—like the kind used for hot tubs or other large loads—for a faster, Level 2 charge.
CAN YOU STILL DRIVE IF YOU DON'T CHARGE IT EVERY NIGHT?
Indeed. We end up charging our electric vehicle, or EV, every 2­­­–3 nights during the week. This gets us about 20 miles per day of driving around town, which is plenty during the work week. On the weekends, we try to keep it fully charged so it can take us on various adventures.
CAN YOU MAKE IT TO YOUR DESTINATION WITHOUT WORRY OF LOSING YOUR CHARGE?
Of course. Our car has a roughly 90-mile range. That's kind of like having a third or a quarter tank of gas in a traditional car. You know how much fuel you have and how far you need to go, so it's just a matter of making sure that you've got plenty of charge to get to your destination. There are also little things—like switching into energy conservation mode, turning off the AC, or even braking—that give you extra juice while you are driving.
CAN IT DRIVE AS FAST AS A NORMAL CAR?
Absolutely! It is so zippy! Combine a lightweight body with an electric motor, and the effect is incredible. There is no combustion that has to take place, so you just push the pedal and the circuit is completed.  
CAN IT FIT TWO CAR SEATS?
And more. Both of my kiddos, my 6'3" husband, me and my massive purse, and our hiking gear can comfortably fit into the car together. In fact, my daughter sometimes complains that she can't reach her brother for hand holding, toy taking, or general sibling shenanigans.
DOES IT HAVE ALL THE THINGS THAT OTHER CARS HAVE?
No, it definitely does not. My EV doesn't have a tailpipe. It also doesn't have a transmission. Or a gas tank. When I list the things I've "given up" with the purchase of our EV, it becomes clear that these aren't things that I miss.
BUT DOESN'T IT COST A LOT MORE THAN BUYING A GAS-POWERED CAR?
That's not necessarily the case. I mean, if you want the new Tesla Model X (and who doesn't?), then yeah, it probably does. But really, we felt like we were making the right financial decision when we purchased our EV. Here's why. We became eligible for up to $7,500 in federal and $6,000 in state tax credits with the purchase of our car. This majorly contributed to a reasonable bottom line. Already, the cost was in line with other new cars when these rebates were taken into account. Add to that the 30% discount as part of Solar Benefits Colorado and 0% financing over six years—which were both active deals when we bought our car—and we're actually going to be in the black for several months after filing our taxes. Crazy, huh?
***
More and more people are learning that EVs can do everything that they need a car to do. It's what these vehicles don't do—like go to a gas station, pollute the air, or rely on foreign oil supplies—though, that I love most about mine.