You are here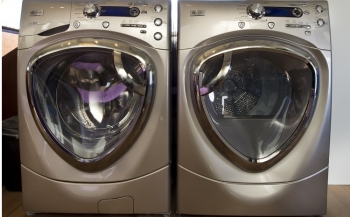 On average, clothes dryers cost $96 per year. Find out how much energy your dryer uses. | Photo courtesy of Dennis Schroeder, National Renewable Energy Laboratory
As we finish up #EnergySaverSolar month, we're looking ahead to November, when we'll be focusing on saving electricity during our #EnergyFaceoff campaign. One of the most popular topics on the Energy Saver site is how to estimate the energy use of appliances and electronics. Understanding how much energy your appliances use, and what it's costing you, can help you make smart decisions about what you purchase and how you use those items in your home.
In preparation for November's theme, we've updated our information on Estimating Appliance and Home Electronic Energy Use. You'll now find information on electricity usage monitors, whole house energy monitors, and easier-to-use instructions for calculating the electricity consumption of your own appliances and electronics.
Take a peek now and start estimating what your appliances are costing you each year. Next month we'll dive further into this topic and pit appliances against each other in #EnergyFaceoff efficiency showdowns! Stay tuned; we'll announce the battles next Monday.