You are here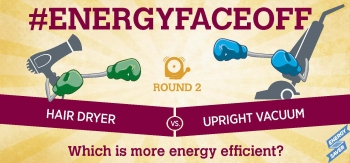 The hair dryer and the vacuum go head to head in #EnergyFaceoff round two! | Graphic courtesy of Stacy Buchanan, National Renewable Energy Lab
Let's get ready to rummmbleeee! Round two of #EnergyFaceoff begins!
In this show-down, the mighty upright vacuum takes on the small and nimble hair dryer. Both of these appliances are noisy and used for about an hour each week, but which costs you more?
These two appliances will battle it out to see who will be crowned most efficient. Place your prediction for which will win using #EnergyFaceoff on social media or sending us an email by clicking the "tell us" link at the top of the page. Check back in to the Energy Saver blog, Energy Saver Twitter, and Energy Saver Facebook on Wednesday to see which appliance will be victorious.