You are here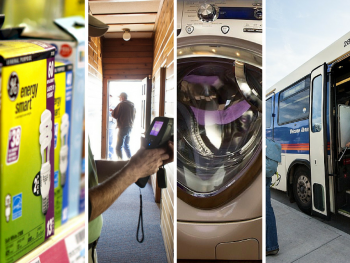 We're thankful for energy-efficient light bulbs, home energy audits, ENERGY STAR appliances, and using public transportation. | Photos courtesy of the National Renewable Energy Laboratory
Happy Thanksgiving from Energy Saver! In this season of mindfulness and gratitude, we spend a lot of time being thankful for everything we have.  This year I am thankful for friends and family, a job I love, a new house, and amazing colleagues.  I am also thankful for the new ways I have found to save energy (and money!)  that make my life easier. 
I am thankful for home weatherization.  Sometimes I think of home weatherization as the cornerstone of a home's energy efficiency.  The first place to start when installing home weatherization measures is with an energy audit done by a licensed professional. He or she will go room by room to tell you which measures you could benefit from installing.  If you follow through with making the recommended upgrades, you could save 5% to 30% on your energy bill.
I am thankful for home appliance rebate programs. Earlier this week, Energy Saver featured a post about purchasing energy-efficient home appliances.  They not only save energy, but also can be eligible for rebates through your local utility or government.  Rebates are available on washers, dryers, water heaters, home heating and cooling, electronics, and even lighting and ceiling fans. Check out ENERGY STAR's rebate finder to see which ones qualify. 
I am thankful for energy-efficient lighting.  Energy-efficient light bulbs use 25% to 80% less energy than traditional incandescent bulbs, and they can last 3 to 25 times longer. The right bulb can also offer a delightful, soft light as you enjoy Thanksgiving dinner.
I am thankful for programmable thermostats.  A few weeks ago while we were experiencing our first real cold spell of the season, my thermostat stopped working.  It wouldn't register a temperature to trigger my heating system to turn on, even when it was only 54 degrees in the house. Needless to say, I started researching new thermostats. I knew that we needed to purchase a programmable thermostat to save energy and money on our heating bill this winter. By turning back your thermostat 10 to 15 degrees for eight hours, you can save 5% to 15% on heating and cooling costs annually—that can be nearly 1% per degree! While hosting Thanksgiving dinner this year, I will know that my house is at its optimal temperature and my guests are comfortable thanks to my new programmable thermostat.
I am thankful for public transportation. Transportation is responsible for a whopping 71% of U.S. oil and gas use. That's incredible.  Before you jump in the car to head to Thanksgiving dinner or shopping this weekend, think if there is a way to go car-free.  I live in a city where a large percentage of the population relies on public transportation and the bus and subway system is convenient and easy to navigate.  If you don't have public transportation available as an option for getting around, consider carpooling with neighbors or friends. 
Which energy saving things are you thankful for this year?