You are here
Team Austria of the Vienna Institute of Technology created an energy-efficient bathroom for Solar Decathlon 2013. | Photo from Jason Flakes/U.S. Department of Energy Solar Decathlon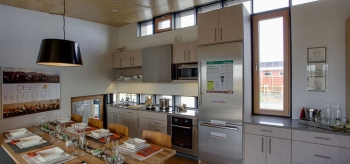 The University of Nevada Las Vegas ventilated the kitchen effectively with tilt and turn windows. | Photo from Jason Flakes/U.S. Department of Energy Solar Decathlon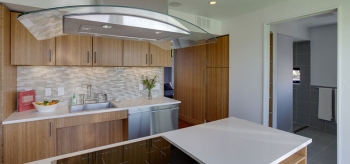 Team Capitol DC (The Catholic University of America, George Washington University and American University) featured a variety of energy-efficient appliances, including an induction cooktop, in its kitchen. | Photo from Jason Flakes/U.S. Department of Energy Solar Decathlon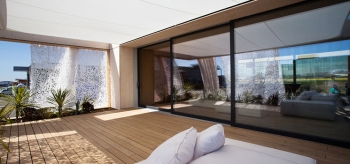 The solar-powered house built by students from Team Austria of the Vienna Institute of Technology for Solar Decathlon took a design-centered approach to shading the structure's exterior. | Photo from Jason Flakes/U.S. Department of Energy Solar Decathlon
The 19 solar-powered houses that made up the Solar Village at this year's U.S. Department of Energy Solar Decathlon showcased some of the most exciting energy efficient technologies available today—as well as some that have yet to enter the marketplace. Even though the competition has ended, you can still learn from the sustainable living strategies employed by the collegiate teams. After all, every team made the grade when it came to researching, designing, and constructing houses that produced more energy than they consumed. 
Lesson 1: It's easy to keep energy from going down the drain.
Instead of wasting up to 90% of the energy used for your home's hot water supply, study up on the sustainable solutions used by Team Austria of the Vienna University of Technology and the University of Southern California (USC). These houses incorporated drain-water heat recovery systems to capture and reuse energy that would otherwise go down the drain. Team Austria's LISI entry used a heat-recovering shower tray that cut the house's energy demand for hot water by almost one-third. The USC team added a drainline heat exchanger to its fluxHome. This system, which transfers the heat from wastewater back to the hot water supply, helped double the house's water heating efficiency.
Lesson 2: Multifunction windows provide a cool ventilation solution.
Tilt and turn windows would easily win a popularity contest among the 2013 teams. These air-tight, sound-proof, water-resistant, and energy-efficient windows rely on a single lever to swing all the way open like a door or tilt partially depending on your ventilation needs. Multiple teams, including Middlebury College, Norwich University, second place–winning University of Nevada Las Vegas, and West Virginia University, were among those who opted for tilt and turn multifunction windows in their solar-powered houses.
Lesson 3: If you can't stand the heat, your stove is probably not very efficient.
To produce a delicious, homemade meal that is also energy efficient for the Home Entertainment Contest, many of the collegiate teams used induction cooktops. Induction stoves are more energy efficient than gas stoves and electric stoves because they use an electromagnetic current to directly heat the pot, which avoids heat loss to the surrounding air. This take-out shunning solution was selected by teams like Kentucky/Indiana, Team Capitol DC, Team Texas, and Santa Clara University among other efficient kitchen appliances.
Lesson 4: Homes should work smarter, not harder, when it comes to energy management.
Considering some of the innovative energy management systems developed by Solar Decathlon 2013 teams, it's hard to say which is more intelligent—the students or their houses.  Stevens Institute of Technology equipped its Ecohabitat with "Smart Sensors" that compile data on weather patterns, homeowner habits, and energy usage to automatically maintain an efficient living environment. Stanford University turned to behavioral economics, human-centered design, and game mechanics research to redesign the standard interaction elements in a home, such as light switches and sink faucets. This approach focuses on engagement, rather than automation, to allow for informed management of the house from the main control panel or any mobile device.
Lesson 5: It's time for creative shading strategies to have their day in the sun.
Awnings aren't the only shade options in town anymore. The 2013 Solar Village showcased a range of architecturally inspired passive shading strategies. For example, the Missouri University of Science and Technology designed its Chameleon House with seasonally-transitional exterior siding panels on the south and west house façades. The panels were finished with a light, reflective side and a dark, absorptive side to control heat gain. The competition's overall winner, Team Austria, enveloped its house in sliding, curtain-like panels that effectively shaded the house while providing privacy for outdoor living spaces.
There are many more lessons to be learned from these innovative collegiate teams. Get ideas for your home by browsing the Solar Decathlon product directory, which features the energy-efficient choices made by each team.