You are here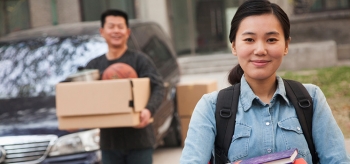 Living the college lifestyle doesn't mean you should forget about energy-efficiency. | Photo courtesy of iStockphoto.com/XiXinXing
Labor Day has come and gone, and college and university students are back in the classroom. For those still living the dormitory-life, even off-campus, energy-efficiency can still be at the forefront of your mind. Whether or not you pay the electric bill, being energy conscious is important, just like preparing for midterms.
Below you'll find some tips to keep energy-efficiency in mind while studying hard this semester.
Keep it Cool
Life without a miniature refrigerator at school is like peanut butter without jelly. And these days you can pick up a nice mini-fridge for less than $100.  Better yet, you can get one with an ENERGY STAR-label. Appliances with these labels meet a specific set of energy-efficiency standards that can save you hundreds of dollars per year on electricity. To find a model for yourself, be sure to check out your local department store or ENERGY STAR's list of Certified Residential Refrigerators.
Let There Be Light
Be sure to replace that incandescent bulb in your flexible desk lamp for a brand new LED this semester. Why, you ask? Well, 10% of energy costs in a home can be attributed to lighting, and you can save plenty of that electricity by switching from incandescent light bulbs to more energy-efficient types like LEDs.
The largest benefit to LEDs over CFLs and incandescents are the longevity and impact on the environment. LEDs actually can last over 25,000 hours, which is 25 times longer than traditional light bulbs. LED bulbs also are 6-7 times more efficient than incandescent bulbs. To learn more about LEDs, check out our blog, Top 8 Things You Didn't Know About LEDs.
Green is Good For You and the Environment
Don't worry. I'm not talking about eating your vegetables, although you know what they say about the freshman 15. No, I'm talking about green transportation. When traveling to and from campus, be green. Ride your bike or walk to class. Take a bus or carpool. Not only will you save money on gas, you'll also be reducing emissions.  If you don't have the option of alternative commuting, utilize these energy-efficient driving tips to save money at the pump.
Join/Create an Energy-Efficiency Club
Student organizations are great ways to keep active within a community and sharpen your professional skills. A cool idea to promote energy-efficiency is to establish an organization on campus with energy-conscious goals.
In 2009, a former Department of Energy intern created the Kill-a-Watt Competition at the University of Central Florida for exactly this purpose. The competition lasted one month and encouraged on-campus students to compete against other dormitories for energy efficiency savings to win student scholarships. During that month, 15% was saved in every single dormitory, saving the entire school an amazing $27,000 in electricity costs. Check out the video of the results!