You are here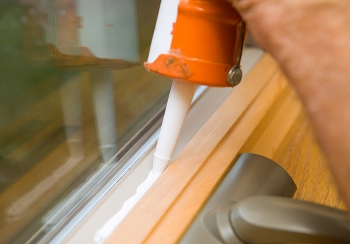 Simple weatherization actions can help keep your home warm.
Two thirds of the country, and especially the Midwest, spent nearly a week consumed by the appropriately-titled "Polar Vortex" earlier this month.  Basically, as temperatures plunged into the double digit negatives, it was as cold in Chicago as it was in the Arctic. 
For many, the sub-zero temperatures meant working from home, having a much-needed day off from school, or simply staying inside for a few days.  Social media was abuzz with pictures and videos of the effects of the cold, such as boiling water being thrown out a door and lighthouses covered in ice.  For others, the cold wreaked havoc on real estate, resulting in home repairs and giving homeowners reason to consider ways to be more prepared for cold weather.  Instead of encountering the following problems, why not explore some easy preventive measures?
Burst Water Pipes: When water freezes in pipes, it creates a blockage which can lead to built-up water pressure and a burst pipe.  The best way to prevent this from happening is by installing insulation around your water pipes or rerouting them to places that already have insulation with no holes present, allowing for air-flow. In climates that are especially prone to cold temperatures, chances are this is already done.  Even if none of your pipes burst in the "polar vortex," take a look to make sure your pipes are safe.   A burst pipe flooding your basement at 2 a.m. in sub-zero weather sounds like a nightmare, but it's very preventable with some spray-foam insulation or piping insulation.  
Furnace Trouble: It's a good idea to have regular maintenance done on your furnace to help prevent costly break downs, but that isn't always enough. Just like people, when furnaces have to work too hard for too long to keep up with the cold, they get exhausted and start to break down. To help prevent furnace trouble, make sure the pipes leading to the outside are free of any built-up snow or ice.  If you find yourself needing a new furnace, consider purchasing one of the many varieties of energy-efficient furnaces and boilers available.   
Frost on the Inside of a Window:  If you received a visit from Jack Frost, chances are that you have single-paned windows that are not especially energy efficient.  Consider purchasing and installing new double-paned energy efficient windows and follow these 5 steps for making your windows more energy efficient.
If you have to make necessary repairs, why not choose energy-efficient options that will help you save money for years to come? A little preparation now will allow you to sit back and relax by the fireplace with a cup of hot cocoa the next time Old Man Winter comes for a visit.