You are here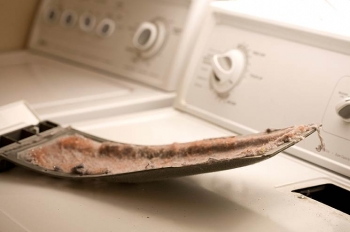 The Environmental Protection Agency estimates that just cleaning the lint screen before each and every load of laundry can save you an average of $34 per year. | Photo courtesy of ©iStockphoto.com/Kameleon007
Now that it's November and fall weather is in full swing, the sun may not be cutting it for those who rely on its natural heat to dry laundry on an outdoor clothes line. Though you may enjoy that lower electricity bill, the fact is clothes do not dry as well in cold, damp weather!
Or you may be like me and rely on a machine dryer year-round because you don't have a yard or outdoor area suitable for a clothes line. In either case, you can still continue to save energy and money by making sure your clothes dryer is performing at peak efficiency.
Just a few weeks ago I decided to take a look at the different ways I could make my own dryer work more efficiently. We all know to clean the lint screen after every load of laundry (and once in a while a vacuum hose can help get the hard-to-reach residual lint). What I didn't know was that the screen does not always capture all the lint that a load of laundry produces – fine particles can sometimes pass through the screen and build up in the duct system that leads outside. Because I live in an apartment and cannot access the duct system on my own, I had to call maintenance for help. However, those of you who live in houses or can easily access your dryer's air ducts, it may help improve your dryer's efficiency (and save you money) to clean out any lint that may have accumulated there. This maintenance is also important for safety; according to FEMA, failure to clean vents and filters is the leading cause of clothes dryer fires.
The Energy Department has identified other tips that can help you make sure doing laundry is as inexpensive and energy efficient as possible. Doing things like using the air dry setting or separating heavier items like towels from lighter-weight clothes can help you save money each month even without using an outdoor clothes line. And, with the holiday season looming ahead, who couldn't use a little extra cash?