You are here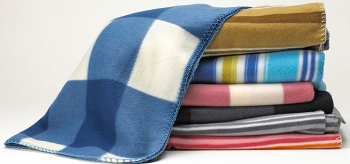 Homemade blankets can make easy and highly personalized gifts. | Photo courtesy of ©iStockphoto.com/NAKphotos
Ah, the holiday season. It's the same every year. The day after Thanksgiving, I haul out the tree (which I will apparently have to use for twenty years, according to the New York Times), throw up the lights, put on the Christmas music, and immediately start freaking out about all the presents I have to get. I'm reasonably organized, so I usually have a head start, but still. Gifts. Anxiety.
But I have one good ol' fallback: it's hard to argue with a homemade gift. They're unique and utterly unlike anything you could buy at a store. And it's fun! So every year, I try to make at least one of my gifts.
So if you're feeling crafty, here are a few present ideas you could use. As an added bonus, they all could be used as part of an energy-saving plan to turn down the thermostat this winter!
No-Sew Fleece Blankets: These are very popular right now, and any craft store will have a bunch of branded kits ready to go. (You could just get your own fabric, too!) They are ridiculously easy. Get two pieces of fleece, cut strips in the sides, and tie them together. Voila. One warm blanket, ready to go.
Basic Blankets: I am not talking about quilts here—there's less than a month until Christmas, after all! But if you have a sewing machine (or a ton of patience and time), you can also make a blanket. You don't have to do anything fancy, either. Two long pieces of fabric, some batting, and an online tutorial could teach you how to make a very basic blanket.
Draft Stoppers: These are the things that you put at the bottoms of doors or windows to stop drafts from coming in. (It'd obviously be more efficient to fix the drafts permanently. But they're a great stopgap solution.) Since they're just tubes of stuffed fabric, they're pretty easy to make!
Heating Pads: Look these up! They're not hard either. Make a square of fabric and fill it with something like buckwheat or rice. Pop it in the microwave and you have your own homemade, portable heating pad!
Armed with all this warmth, your family could sit back with a cup of hot cocoa (maybe in its own homemade cozy), turn the heat down, and stay beautifully warm, even when the weather's cold outside—and all without having to crank the thermostat up a little higher.