You are here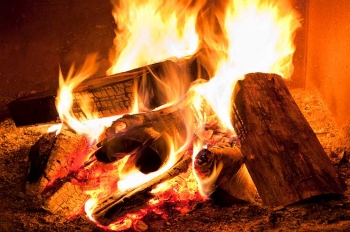 Burning firewood can keep you warm and cozy while keeping your thermostat and electricity use low. | Photo courtesy of ©iStockphoto.com/Pgiam.
It's no surprise to many of us that the first few days of November usually consist of storing the fake spider web, composting the rotting pumpkins, eating, er, giving away the last of the Halloween candy, and of course thinking about how we're going to stay warm and also energy efficient in our homes as the cold weather approaches.
I got to thinking about this over the weekend and realized that one way for me to stay energy efficient while staying warm and cozy this winter is to take advantage of the wood-burning fireplace in my home. Burning firewood allows me to stay comfortably warm while keeping my thermostat and electricity use low.
Thermal energy from the burning of wood radiates directly into the living room, keeping the most occupied room in the house up to 10 degrees warmer than the rest of the home without using one electron of electricity. Efficiency is highest when wood is converted directly into heat in the fireplace as it prevents energy from getting lost. When wood or other fuel is converted to electricity, then transported to a residence, then converted into heat, some energy is lost or wasted in the process.
It's important to remember that the energy savings benefits of using your fireplace as a main source of heat are only realized if your fireplace or other wood-burning appliance is efficient.
The best part about using the fireplace in the winter is the house feels cozier, has a wonderful aroma and the whole-house thermostat stays below 66 degrees, which really saves electricity and of course, money! With a plan for maintaining energy efficiency in my home with the cooler months ahead, I'm excited for what's in store for the upcoming winter season.