You are here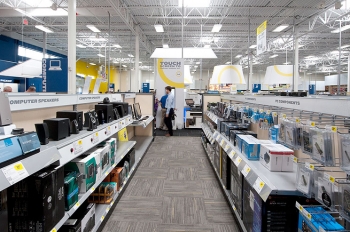 When shopping for appliances or electronics for the holidays, look for the ENERGY STAR® and EnergyGuide labels. | Photo by Dennis Schroeder, NREL 22090.
It's the holiday season, which is a perfect time to find a great deal on new appliances if it's time for an upgrade!  Household appliances can last 10-20 years, depending on the appliance, so it's important to make sure that the appliance you are choosing will give you the most bang for your buck.
One way to maximize the cost-effectiveness of your purchase is to keep an eye out for the ENERGY STAR® label.  What does the ENERGY STAR® label mean?  The logo is placed on all qualified products that meet specific standards for energy efficiency that are mandated by the federal government.  These products exceed the federal minimum standards for energy efficiency and quality, and a lot of times those savings can be pretty significant!
Appliances that you can find with an ENERGY STAR® label include:
Refrigerators
Freezers
Room air conditioners
Televisions
Clothes washers
Dishwashers
Battery chargers
Water heaters
Fluorescent lamp ballasts
Incandescent reflector lamps
If your appliance has an ENERGY STAR® label, you're assured that your appliance is energy efficient.  Consumers can also take note of the yellow EnergyGuide label that is required to be placed on all appliances by the manufacturers.  This label gives shoppers an estimated yearly operating cost, which can help you factor the operating costs of your new appliance into your budget. 
So if you're shopping for a new appliance for yourself or a loved one this holiday season, be sure to check out our Energy Saver website for tips on estimating home energy use , or the ENERGY STAR® website to locate ENERGY STAR® products near you!