You are here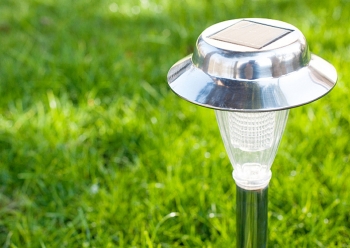 Outdoor solar lights provide attractive lighting around your home's exterior and require little maintenance. | Photo courtesy of ©iStockphoto.com/ndejan
This spring the Energy Department launched the High Performance Outdoor Lighting Accelerator (HPOLA) to encourage state and local governments to increase the use of high performance outdoor lighting.  The accelerator is currently recruiting public sector entities and has the goal to see that more than 500,000 outdoor lighting poles are upgraded and highlight best practice approaches for municipal system-wide upgrades.
Now that the public sector is being encouraged to upgrade lighting, why not think about ways that you can apply the same technologies on a smaller scale right in and around your own home?  Approximately 10% of the average home's energy expenditures go toward lighting, making it worthwhile to switch to high efficiency light bulbs throughout your house, if you haven't already.  But don't just stop with the indoor lights. Typically, outdoor lights are left on for longer periods of time than their indoor counterparts, so this summer take the time to upgrade outdoor lighting to save even more energy and money. 
Outdoor solar lighting is an energy saving and aesthetically pleasing way to light around your home.  Most of the time you will see this type of lighting spread throughout landscaping, along a walkway, or on a patio or deck.  It uses the solar cells to convert sunlight to electricity and power the lights after dark.  As an added bonus, solar lights are easy to install, do not increase your electric bill, and have little or no maintenance. 
Look for ENERGY STAR qualified outdoor light fixtures with automatic daylight shut-offs and motion sensors.  Just be sure you are purchasing models designated for use outdoors to be certain they can withstand exposure to the weather.
Change out your traditional incandescent light bulbs for energy savings bulbs. Replacing 15 inefficient bulbs could save you up to $50 per year in electricity costs--and they last longer, allowing you to see even more savings.
When it comes to saving on lighting, remember that the municipal members of HPOLA are not the only ones who can save big this summer!