You are here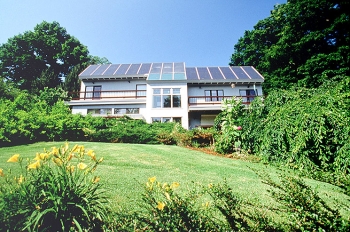 Solar heating systems can be a cost-effective way to heat your home. | Photo courtesy of Solar Design Associates, Inc.
Most people are familiar with solar photovoltaic panels, but far fewer know about using solar as a source of heat in their homes. Active solar heating uses solar energy to heat fluid or air, which then transfers the solar heat directly to an interior space or storage system for later use. Solar heating systems often supplement other heating systems, such as radiant heating, boilers, absorption heat pumps, or forced-air heating. 
Here are five cool things you may not have known about active solar heating:
Active solar heating systems are actually most cost-effective in cold climates that have good solar resources.
Both liquid and air systems can help supplement forced-air heating systems in your home.
Commercially sold systems usually come with warranties of 10 years or more, but should last much longer.
Some states offer sales tax exemptions, income tax credits or deductions, and property tax exemptions or deductions for solar energy systems.
Solar heating systems reduce the amount of air pollution and greenhouse gases that generally come from the use of fossil fuels for heating and electricity production.
If you're interested in finding out more about solar heating systems, Energy Saver has plenty of helpful tips and hints to help you navigate which system might be best for you!