You are here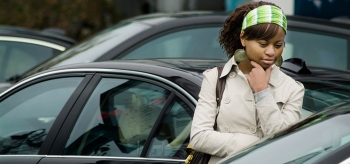 Read the 2014 Fuel Economy Guide to inform your new car purchase this year. | Photo courtesy of ©iStockphoto.com/Thomas_EyeDesign
Are you in the market for a new car to start off the New Year? Choosing the most fuel-efficient vehicle that meets your needs and saves you money at the pump may help you meet your other New Year's resolutions, like traveling or saving. The Energy Department and Environmental Protection Agency's 2014 Fuel Economy Guide can help when shopping for a new vehicle by providing useful and accurate fuel efficiency information on model year 2014 vehicles, making it easier to compare vehicles and choose one that's right for you.
The 2014 Fuel Economy Guide provides the estimated fuel economy (in miles per gallon, or MPG) and annual fuel costs (using  national averages of fuel costs and miles driven) of most model year 2014 vehicles for sale in the United States, listed by vehicle class, and then by manufacturer. A useful online version of the guide provides information on vehicles dating back to 1984, and enables you to customize estimated annual fuel costs by entering in the number of miles you drive in a year, the price you pay at the pump, and the percentage of miles you drive in stop-and-go traffic so you get a more personalized and accurate estimate.
The online version also enables you to easily search for vehicles through a number of other categories using the "Power Search" feature, including MSRP, fuel economy, fuel type (such as gasoline, diesel, and electricity), and class of vehicle.
Looking for the most fuel-efficient 2014 family sedan hybrid? The 2014 Toyota Prius tops the online guide at 50 combined city/highway MPG. Need something larger, and prefer to still fill up with gasoline? The Mazda 5 is the most fuel-efficient 2014 minivan, at 24 combined MPG. Decide to go all-electric? The online guide lists the 2014 Chevrolet Spark EV as the most efficient all-electric hatchback, with 119 combined miles per gallon of gasoline equivalent. And don't forget to check out our list of the top ten EPA-rated fuel sippers for 2014.
Whatever your needs and priorities are, the 2014 Fuel Economy Guide can help you easily compare and make sense of the variety of vehicles available in model year 2014. For more information on how to cut your fuel costs and save money at the pump this year, check out www.fueleconomy.gov.