You are here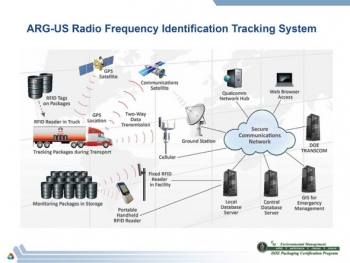 This graphic shows how the radiofrequency identification technology tracks and monitors packages in transport, in-transit stops and storage.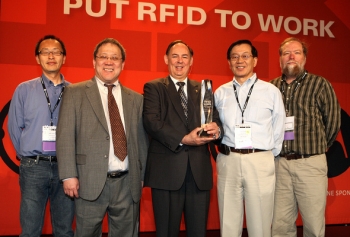 The technology developed by EM's Office of Packaging and Transportation Packaging Certification Program technology development team was selected by the RFID Journal as the "Most Innovated Use of RFIDs." Team members pictured here include Dr. John Lee, Dr. Yung Liu, Dr. Jim Shuler, Dr. Hanchung Tsai and John Anderson. Team members not pictured are Brian Craig and Dr. Kun Chen.
WASHINGTON, D.C. – EM's Office of Packaging and Transportation (OPT) has developed award-winning technology that reduces costs and increases the efficiency of tracking and monitoring radioactive material shipments.
The device uses radiofrequency identification (RFID) technology to transmit continuous, almost real-time information using radiofrequency waves from sensors bolted to the lids of the transportation packages. A remote receiver miles away receives the information for tracking and monitoring packages in transport, in-transit stops and storage. The sensors work in conjunction with the local receiver, secured computer network servers, and satellite- or cellular-based communication channels.
The EM RFID technology was developed to cut costs of required, periodic leak testing of these shipment packages. The robust containers have seals to prevent leaks that are tested before shipment and replaced at least annually to ensure safety.
The new technology developed by the DOE Packaging Certification Program within OPT monitors the temperature of the seals to ensure it does not exceed designated thresholds. As a result, the seals last longer and testing is needed less frequently, which lowers packaging costs complex-wide.
Other benefits of the system include enhanced safety, safeguards, security and materials accountability. Radiation exposure is reduced by decreasing the need for manned surveillance, and users receive real-time access to data, including continuous monitoring of environmental conditions.
The safeguard system is undergoing testing for storage and transportation applications at selected DOE sites. The National Nuclear Security Administration (NNSA) is also evaluating the technology for its Global Threat Reduction Initiative.
Working with the World Institute for Nuclear Security and the World Nuclear Transport Institute, OPT and Argonne National Laboratory developed guidance for this technology and other electronic systems for tracking radioactive materials in transport. Thomas D'Agostino, who retired this year as Under Secretary for Nuclear Security and NNSA Administrator, briefed President Obama on the guidance for the Second World Nuclear Security Summit held in Seoul, Republic of Korea, in March last year.
The guidance helps stakeholders (government policymakers, regulators, operators, shippers and security personnel) understand the benefits and challenges of electronic tracking systems. It contains questions for stakeholders to assess the effectiveness and need for an electronic tracking system to transport radioactive materials. It also includes metrics defining different levels of organizational success in implementing a security tracking system.
The OPT Packaging Certification Program technology development team won two international technology awards for the system in 2011. The RFID Journal selected the technology as the "Most Innovated Use of RFIDs," and the World's Best Technologies (WBT) Innovation Marketplace named the RFID technology among the "100 World's Best Technologies."
"To be selected to present at this very prestigious event is quite an honor for the DOE-Argonne team," DOE Packaging Certification Program Manager Dr. James Shuler said of the annual forum that showcases a collection of undiscovered companies intellectual property from top universities, laboratories and research institutions.