You are here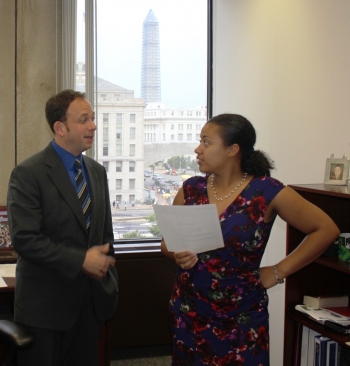 EM Office of External Affairs Acting Communications Director Dave Borak talks with EM intern Valerie Edwards.
Experienced Pilot and Robot Builder Lands Summer Internship at EM 
Only 22 years old, Valerie Edwards has accomplished significant feats, from flying airplanes to building award-winning robots.
Now, Edwards is ready to achieve more as a DOE Office of Environmental Management (EM) Office of External Affairs intern.
Her assignment: help improve EM's public communications across the DOE complex.
Edwards is poring over the websites of EM sites to determine ways to better share information. She's also studying the nuclear cleanup news of their social media outlets to come up with interesting stories to write about in EM publications such as the EM News Flash.
The intern plans to interview former EM Assistant Secretaries for use in an EM Update newsletter series in which the former officials reflect on their achievements and challenges in the world's largest nuclear cleanup and to discuss endeavors in life after EM.
Edwards also plans to interview EM leaders in the science technology engineering and math (STEM) fields for the DOE blog series that highlights women who are helping change the world. In addition, she's supporting the DOE feeds families campaign, which assists local food banks in replenishing their food supplies.
"Being at the Department of Energy this summer has already started to shed light on the countless possibilities there are for me to choose from, and that excites me," said Edwards, who grew up in Whiteville, N.C.
The senior at Elizabeth City State University (ECSU) is double majoring in Aviation Science and Mass Communications.
In November 2011, Edwards became a certified pilot in a Cessna 150 single-engine aircraft after extensive training for four months. Edwards is also certified to fly in the G-1000 Cessna 172 aircraft.
She also constructed and programmed a mobile robot in a research project for the Ronald E. McNair Post-Baccalaureate Achievement Program in 2011, which prepares students for doctoral studies through research and other scholarly activities. Her research won first place at two competitions in Elizabeth City, N.C., and Baltimore, Md. 
Edwards serves as a student ambassador for her university. She is an English tutor and a writing consultant. Recently, she was inducted into Sigma Tau Delta, the International English Honor Society. And this fall, she becomes editor of the campus newspaper, The Compass.
Edwards is a radio personality for WRVS 89.9 ECSU in Elizabeth City. She has two radio shows, NightWindz and Hip Hop Avenue.  She is also the sports anchor for ECSU's morning show, Vikings Wake-Up. 
Edwards plans to pursue a master's degree in Mass Communications in fall 2014.
In her free time, Edwards enjoys reading, writing, playing tennis, dancing, spending time with family and friends and participating in community activities.