You are here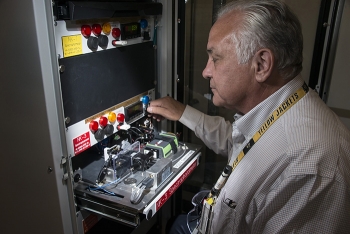 HB Line Engineer Chris Loyal performs process monitoring with a spectrophotometer.
AIKEN, S.C. – Savannah River National Laboratory (SRNL) teamed with EM to implement new chemical measurement instrumentation, replacing an aging process monitoring system for the Savannah River Site (SRS) surplus plutonium disposition mission.
   The commercially available spectrophotometers are expected to provide substantial cost savings and reduce downtime during production at the site's HB Line, a chemical processing facility.
   The instruments replace colorimeters for determining the plutonium concentration in solutions. The colorimeters measure the shade of a solution, with a darker color generally indicating more plutonium is present. Engineers use the results to track work progress and to maintain strict safety standards that limit the plutonium concentration held in and transferred to different tanks. 
   Rob Lascola, a fellow scientist in SRNL's Analytical Development Section (ADS), said the colorimeters were problematic.
   "They took too long to troubleshoot, calibrate, and repair, and were not as accurate as HB Line personnel needed. The uncertainty of the measurements meant that plutonium concentrations had to be kept very low to ensure that they were within safety limits. Processing efficiency was impacted as a result."
   Lascola and Pat O'Rourke, an advisory scientist in ADS, came up with the idea to use spectrophotometers, which are employed by the pharmaceutical, food and other industries to monitor chemical manufacturing processes, ensuring product quality and safe, efficient operations.
   "Spectrophotometers can see a broader range of colors, making their measurement of plutonium more accurate," said O'Rourke.
   O'Rourke added that employees can calibrate the spectrophotometers in minutes. Previously, the colorimeters had to be removed from the facility and taken to SRNL yearly for calibration.
   Lascola and O'Rourke modified the spectrophotometer design to make it more accurate, reliable, and easier to maintain. They developed mathematical formulas to convert the color absorption patterns measured by the instrument into plutonium readings.
   The scientists partnered with SRNL Research and Design Engineers Jean Plummer and David Immel to create the hardware and control software for the new instrument.
   "We called it the Next-Generation Spectrophotometer (NGS) for a couple of reasons. One reason was that this system uses spectrophotometers in an enhanced implementation, providing better measurements and facilitating ease of instrument calibration and maintenance," said Plummer. "It's a next generation forward-thinking implementation of spectrophotometers."
   Immel and Plummer designed the NGS to fit in a cabinet in the HB Line operations control room. Its front screen and cabinet indicators are user-friendly despite complicated computer models behind the scenes. The HB Line's computerized system also alerts operators to NGS alarm conditions.
   The device can be used in other areas of SRS and across the DOE complex.
   "The NGS was designed so that new models developed by the scientists to measure concentrations of other material species, such as uranium, could be loaded into the current system without modification to the NGS hardware and software," Immel said.
   HB Line is the only chemical processing facility of its kind in the DOE complex. The facility was built in the early 1980s to support the production of plutonium-238 (Pu-238), which is a power source for the nation's deep space exploration program, and to recover legacy materials stored in H Canyon.
   The HB Line missions later shifted focus to Pu-239 and uranium-235 disposition preparation for the Defense Waste Processing Facility at SRS and the Waste Isolation Pilot Plant. In 2014, HB Line began its mission supporting plutonium oxide production.