You are here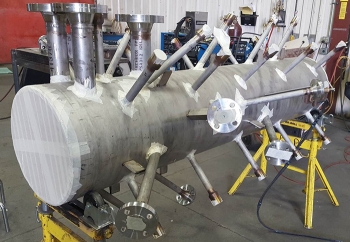 The small-scale replica of the Denitration Mineralization Reformer, part of the Integrated Waste Treatment Unit's primary reaction vessel, will be used for testing scheduled in January.
IDAHO FALLS, Idaho – A small-scale version of the Integrated Waste Treatment Unit's (IWTU) primary reaction vessel will be used for testing at a Colorado research and testing facility beginning in January to help resolve technical challenges that surfaced during prior simulated waste treatment runs. 
   Engineers at Hazen Research, Inc., near Denver, will use the vessel and a chemical mixture that resembles a portion of remaining sodium-bearing liquid waste in storage for a series of experiments designed to create optimum waste treatment conditions within the replica Denitration Mineralization Reformer (DMR).
   The 900,000 gallons of waste in the tank farm at the Idaho Nuclear Technology and Engineering Center are awaiting treatment to allow the eventual closure and grouting of the remaining underground storage tanks.
   The IWTU's DMR is a cylindrical vessel filled with billions of tiny sand-like particles. When treating simulated waste, the DMR is heated to about 1,200 degrees Fahrenheit and the particles become agitated or fluidized by gasses. Liquid waste is injected into the vessel, and as the liquid is quickly dried by heat, it coats the tiny particles like the formation of a pearl. The granular waste product is transferred to other processes within the IWTU facility before ultimately being sealed in stainless steel canisters.
   During prior test runs, the injected liquid simulated waste coated the inside of the DMR causing a bark-like substance to form. That anomaly disrupted the fluidized motion of the tiny particles, which in turn caused other chemical, temperature and mechanical problems inside the vessel.
   A working group of technical experts from the DOE complex, industry and academia determined that the particle size and fluidizing gas composition are crucial to maintaining an optimum reaction environment within the DMR.
   Testing at Hazen seeks to determine the ideal methodology for controlling particle size and other parameters affecting the bark formation rate to prevent problems within the DMR. Subsequent Hazen tests will further refine the operating boundaries for the next round of planned IWTU demonstration runs.