You are here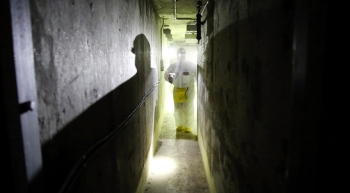 A radiation control technician surveys the radiation levels in the basement level of the F Reactor.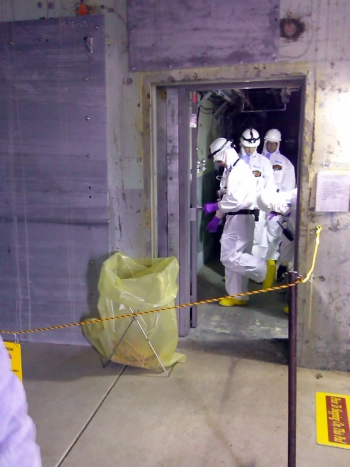 A safety team enters the H-Reactor for its initial safety evaluation and to verify conditions.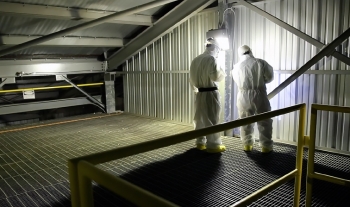 Structural engineers evaluate the integrity of the roofline structure in the F Reactor.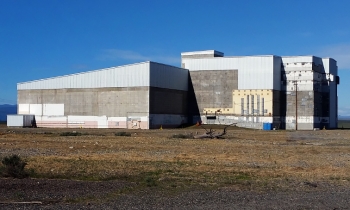 The 105N/109N Reactor was called a dual purpose reactor in that it not only produced plutonium for America's defense program, but it also generated electricity. It was the only reactor of its kind in the country. The reactor block is on the right and the steam generator is on the left.
RICHLAND, Wash. – Workers at the Hanford Site took a step back in time as they removed welds from the doors and entered four of the site's cocooned reactors for required inspections.
   The C, D, H and N reactors recently passed their check-up, with workers finding nothing amiss after inspecting what remains of each them. 
   The inspections give the EM Richland Operations Office Long-Term Stewardship (LTS) team an opportunity to conduct structural and radiological surveys, identify needed repairs, and remove any hazardous substances. Workers with Richland Operations Office contractor Mission Support Alliance (MSA) found the reactors to be in good shape and almost identical to the last time they were inspected.
   As part of the Tri-Party Agreement, DOE and the LTS program complete surveillance and maintenance activities of cocooned reactors periodically to evaluate the structural integrity of their safe storage enclosures and to ensure confinement of any remaining hazardous materials. Completion of the reactor inspections means the LTS program safely and successfully achieved its fiscal year 2015 performance incentive.  
   "I believe that MSA's strategic approach to combine reactor entries gained considerable efficiencies and will help DOE manage the long-term requirements for these structures," LTS Program Lead Randy Krekel said.
   The LTS program has now inspected five reactors this fiscal year. In October 2014, workers inspected the F Reactor and had similar findings. The remaining cocooned reactor, the DR Reactor, was inspected in 2013.
   The plan is to monitor the reactors every few years for up to 75 years to allow radioactivity to decay to more manageable levels before final disposition.
   "I would like to recognize the Long-Term Stewardship team for their hard work and diligence, which will ensure the safety of our cocooned reactors now and in the future," MSA President Bill Johnson said.
   With the inspections complete, the reactor doors have been re-sealed until the next entry period. The results from the recent inspections will be summarized and submitted to DOE later this year.
Email Updates
To receive the latest news and updates about the Office of Environmental Management, submit your e-mail address below.