You are here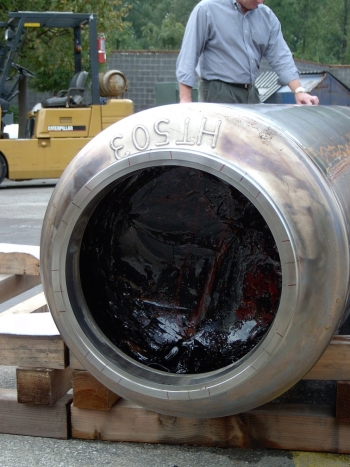 A canister filled with nonradioactive glass sits on display.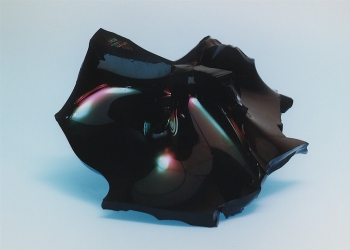 A sample of vitrified glass at EM's Office of River Protection.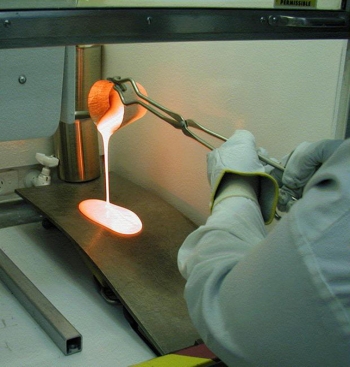 A glass scientist works with molten glass.
RICHLAND, Wash. – As EM's Office of River Protection (ORP) continues with design and construction of the Waste Treatment and Immobilization Plant (WTP) project at the Hanford Site, tests continue to enhance the predicted results of turning waste into glass.
   If the tests continue to go well, they could possibly lead to an increased production efficiency of about 60 percent, cutting the number of high-level waste canisters and low-activity waste containers by up to half and significantly reducing the time and cost of the multi-decade tank waste treatment mission.  
   Hanford was once the workhorse for plutonium production for the nation's atomic weapons stockpile, as plutonium was produced at the site between 1944 and 1987, resulting in 56 million gallons of chemical and radioactive waste now stored in 177 underground tanks on the site. 
   This waste will be treated through a process called vitrification, where the material is mixed with glass-forming agents and superheated. The resultant product will be stored in metal containers (low-activity waste) and metal canisters (high-level waste). 
   Although vitrification is used at other facilities in the DOE complex, U.S., Europe, and Asia, none of those sites has the same level of complexity that exists at Hanford.  
   Because the chemical and radiological makeup of the tank waste at Hanford varies based on the time and fuel reprocessing technology that produced it, each batch varies in composition, meaning each requires a different glass formula.    
   ORP glass scientist Albert Kruger and a team of his colleagues have been applying advanced formulations to previously established glass-making models to try and help reduce the cost and duration of the WTP operational mission. Kruger came to ORP in 2007, having started his career at Bell Telephone Laboratory, and has decades of experience in the glassmaking industry. His work has led to dozens of worldwide patents.   
   Through these advanced glass formulation models, there could be a reduction in the number of low-activity waste containers from roughly 125,000 to about 79,000, and high-level waste canisters from nearly 15,000 to just over 8,000 for all of the tank waste.
   This can be done by modifying the formulas so that more waste could be loaded into the glass without certain side effects occurring, such as melter foaming or crystallization of the final waste form. 
   These new formulations adhere to all the established requirements for processing and disposal of nuclear waste.
   Additionally, the underpinning glass science and models were subjected to external, independent review and served as bases for publication in related journals.  
     The team continues to further glass science work, conducting unique experiments in an effort to complete its cleanup mission as expeditiously as possible. 
   "What these advanced formulations do is allow for an increase of waste loading in the glass and reduce the number of high-level waste canisters or low-activity waste containers needed to complete the mission," Kruger explained. "This means that we may be able to treat all the low-activity waste rather than just a portion of it in the existing [Low-Activity Waste] facility." That translates into potentially significant savings in terms of cost and length of the cleanup mission. 
   "In addition to our new glass models, we've successfully addressed opportunities for greatly enhanced production efficiencies for the existing melter designs, which will cut the length of the mission," Kruger said. "Enlarging the size of the melt pool within the two melters will save the taxpayers a lot of money and get Hanford cleaned up sooner than anticipated. This is not possible on the current melters that are built but it is an option on future melter replacements."
   The number of low-activity waste containers may be reduced if processes known as leaching are removed from tank waste pretreatment. The processes also negatively affect the lifetime of the vessels in the pretreatment facility and duration of the vitrification mission as a whole. Leaching adds dilute sodium hydroxide or oxidizing agents to the high-level waste to remove either aluminum (caustic leaching) or chromium (oxidative leaching).
   Initially, glass models called for caustic or oxidative leaching during the pretreatment process. Offering this opportunity to remove leaching solves some of the technical issues delaying the Pretreatment Facility.
   Kruger's team's advanced high-level waste glass models demonstrate that nearly three times the aluminum can be retained in the high-level waste form from earlier models, along with a four-fold increase in the amount of chromium retained. 
   By eliminating the need for leaching, the duration of the high-level waste treatment campaign would increase while the Low-Activity Waste Facility mission duration would decrease even further. The number of high-level waste canisters produced would rise to about 13,500 from a potential minimum number of 8,000 but the number of low-activity waste containers needed would drop down to around 65,000.
   "This shows that, despite the slowdown of construction activities due to technical issues, WTP has never stopped optimizing its work," said Bill Hamel, WTP Assistant Manager and Federal Project Director for ORP. "Experts like Albert are working hard to ensure the plant operates safely and efficiently, and these continuous improvements are yielding results."