You are here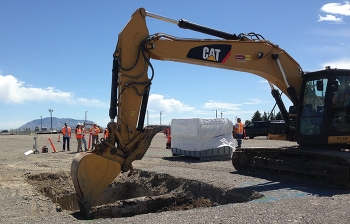 Workers excavate contaminated material at the French drains site.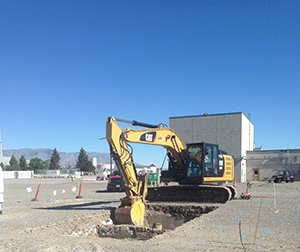 Excavation occurs around the northern shallow injection well.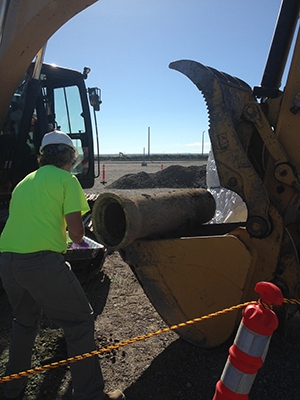 Employees collect samples from the bottom section of the drain pipe.
IDAHO FALLS, Idaho – A streamlined process to remediate contaminated areas at DOE's 890-square-mile Idaho Site has benefitted the Environmental Restoration (ER) Program and taxpayers in general.
   EM contractor Fluor Idaho recently cleaned up a contaminated site using a streamlined remediation process from a 2009 Record of Decision (ROD) signed by the DOE, U.S. Environmental Protection Agency (EPA) and state of Idaho. That ROD allowed the ER program to use removal and disposal cleanup remedies from previous and similarly contaminated soil sites.
   Before that approach was adopted, DOE, EPA, and the state of Idaho conducted lengthy Comprehensive Environmental Response, Compensation and Liability Act (CERCLA), or Superfund, environmental investigations of newly discovered contaminated sites that spanned months or even years. Such lengthy investigations and the subsequent paperwork could cost taxpayers millions of dollars.
   "The plug-in approach allows the agencies to determine if newly discovered sites fit within the parameters of OU 10-08 Record of Decision and expedite a CERCLA response action if necessary," said ER Project Manager Val Kimbro. "The process is quick and ultimately saves DOE time and money."
   The latest project — the second to use the plug-in approach since 2009 — involved the remediation of two shallow French drains and surrounding soil at the Advanced Test Reactor Complex at the Idaho Site. The ER program determined that historic releases of liquids containing cesium, cobalt and lead from the Engineering Test Reactor Air Intake Building French drains contaminated as much as 100 cubic yards of nearby soil. Cleanup at the French drain sites was necessary to bring the areas into compliance with environmental cleanup levels agreed to in a previous record of decision.
   Contaminated soil was exhumed and transported to the Idaho CERCLA Disposal Facility — an approved onsite landfill — for permanent disposal. Both French drains were filled with concrete grout and capped. 
   The total cost of the French drain cleanup was less than $365,000. The project was completed in about two weeks this past month. 
   "Project personnel from Construction Management, Radiological Control and Waste Generator Services were phenomenal and contributed significantly to the remediation going smoothly and it being done safely," Kimbro said.
   The plug-in approach was used at the Idaho Site in 2013 for an area that contained lead-contaminated soil presumably from paint stripped with a bead-blasting process similar to sand blasting. About 50 cubic yards of material were removed at a cost of less than $250,000.