You are here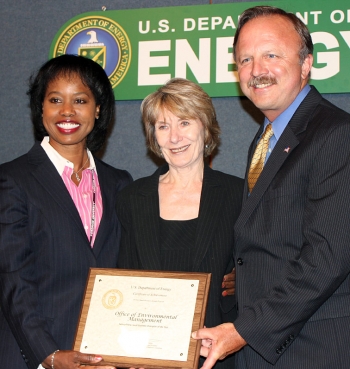 DOE Office of Economic Impact and Diversity Director Dot Harris, left, presents the Sub-to-Prime Small Business Champion of the Year Award to EM Small Business Advocate Kay Rash, center, and EM Deputy Assistant Secretary for Acquisition and Project Management Jack Surash during DOE's Fiscal Year 2011 DOE Secretarial Small Business Awards Program Wednesday.
WASHINGTON, D.C. – DOE on Wednesday honored EM as the inaugural recipient of a new award for extraordinary efforts to expand contract opportunities for small businesses.
Senior Advisor for Environmental Management Dave Huizenga expressed gratitude that the EM Small Business Program was honored with the award because it underscores EM's role as a highly-regarded advocate and champion of small businesses.
"Small business firms are critical to the success of the EM program and broader economy and we fully appreciate their significant contributions," Huizenga said. "We will continue to be a strong advocate of small businesses as we look for additional contracting opportunities for them while ensuring continuation of a sustainable small business program."
EM received the Sub-to-Prime Small Business Champion of the Year Award during DOE's Fiscal Year 2011 DOE Secretarial Small Business Awards Program. EM was recognized for exceeding expectations as an advocate of small firms by awarding several major contracts previously held by large companies to small businesses.
High-Value Contracts Go to Variety of Small Businesses
One example is HPM Corp., a certified minority- and women-owned small business. EM recently awarded a contract with an estimated value of $99 million to HPM to provide occupational medical services at the Hanford site. Earlier in the year a contract with a value of $121 million was awarded to a small business to perform Moab mill tailings cleanup work in Moab, Utah. Both of these contracts were previously performed by a large business and are just two examples of contracts to perform EM core mission work that have been converted from large-business to small-business contracts.
In addition, EM this month announced the award of seven small-disadvantaged business contracts to support EM headquarter operations. Each contract will have a value of approximately $4 million. EM is committed to creating sustainable contract opportunities for small businesses by increasing the amount of meaningful work for small business prime contracting. By implementing a sustainable approach to small business prime contracting, small businesses will be able to develop a long-term approach to develop their capabilities and workers.
Champion Award, Recent Contracts Spotlight EM's Small Business Success
EM's contract awards and the receipt of the Secretary's small business award for expanding small business opportunities highlight the success of the EM Small Business Program. Including American Recovery and Reinvestment Act small business funding in fiscal years 2009 and 2010, EM has averaged in excess of half a billion dollars in annual small business prime contract funding and EM has exceeded targeted small business funding goals since 2006. 
As part of its continuing efforts to promote small business, in partnership with the Office of Small and Disadvantaged Utilization, EM's Hanford site and prime contractors at Hanford hosted a Small Business Summit in April called the Bridging Partnerships Small Business Symposium. The symposium featured networking opportunities, a business expo with contractors and government representatives and breakout sessions with leading industry and government experts. The summit was among the new regional summits DOE is hosting throughout the U.S.
In addition, EM participated in the eighth-annual National Small Business Federal Contracting Week in March. The event, presented by the National Association of Small Business Contractors and the U.S. Women's Chamber of Commerce, allowed small businesses to connect with federal agencies and prime contractors.
EM is working to become an even greater champion of small businesses through several initiatives. EM recently increased its projected small business funding and committed to a $300 million goal in fiscal year 2012, an increase of $50 million over the previous target. EM also is working with its sites around the complex to ensure support of a DOE goal to increase small business prime and to work toward the Department's goal of 10 percent of the procurement base. 
Firms Supporting EM Program Receive Recognition from DOE
Several firms that support the EM program also received awards at the Fiscal Year 2011 DOE Secretarial Small Business Awards Program Wednesday, including:
• Eberline Services, Inc., Small Business of the Year
• Washington River Protection Solutions, DOE Mentor of the Year
• Restoration Service, Inc., Woman-Owned Small Business of the Year