You are here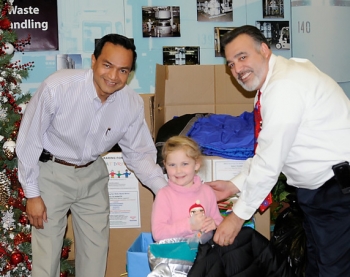 Aspen Cass, a relative of an EM Carlsbad Field Office (CBFO) employee, holds donated coats with Farok Sharif (left), president and project manager of Nuclear Waste Partnership, the WIPP management and operating contractor, and Joe Franco, manager of CBFO.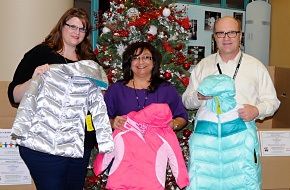 The clothing drive's organizers — Margaret Gee (left), Yolanda Navarrete (center) and Dana Dorr — hold up some of the donated coats before providing them to Carlsbad area schools. Gee is with CBFO and Navarrete and Dorr are with Nuclear Waste Partnership (NWP). NWP's Yolanda Salmon, another drive organizer, is not pictured.
CARLSBAD, N.M. – Children in the Carlsbad area are warmer this holiday season thanks to the generosity of EM's Waste Isolation Pilot Plant (WIPP) team of employees.
With the drop in temperatures, Carlsbad residents bundle up to keep warm. Struggling families may not have adequate winter clothing. 
However, the EM team of federal, contractor and subcontractor employees is making a difference through a second annual clothing drive. The group donated about 170 items, including new or gently used winter coats, sweaters, gloves, scarves and hats for children in need.
"The generosity of the WIPP team employees represents their character and compassion," said Carlsbad Field Office Manager (CBFO) Joe Franco. "This winter we have helped to keep children warm throughout the community."  CBFO has responsibility for WIPP and the National Transuranic (TRU) Program.
Even before the drive ended this month, coats were being requested and presented to children. Counselors and teachers in the public schools were able to provide the donated clothing to those children who needed it most. 
"Although this was a WIPP team initiative, other Carlsbad residents and businesses heard about what we were doing and wanted to donate too," said CBFO's Margaret Gee, a drive organizer. "Once word went out, businesses got involved to help ensure the coat drive was successful. Additionally, Carlsbad schools provided the WIPP team coat drive flyer to their staff and parents for participation. As a result, the winter clothing was provided to students directly though the schools." 
WIPP is a DOE facility designed to safely isolate defense-related TRU waste from people and the environment. Waste temporarily stored at sites around the country is shipped to WIPP and permanently disposed in rooms mined out of an ancient salt formation 2,150 feet below the surface. WIPP, which began waste disposal operations in 1999, is located 26 miles outside of Carlsbad, N.M.