You are here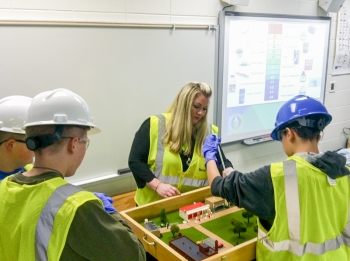 Elizabeth Wyatt, mechanical engineer and senior technical advisor for Fluor Paducah Deactivation Project, helps Ballard County Middle School students understand groundwater and water sampling.
PADUCAH, Ky. – Thanks to groundwater experts with EM's Paducah Site deactivation and remediation contractor, local middle school students enjoy an interactive learning experience where they explore a groundwater model to learn about the water cycle, water quantity and contaminants.
   The students from Ballard County, Heath, Lone Oak, Paducah and Reidland middle schools test the water using laboratory equipment. They also discuss career opportunities in Science, Technology, Engineering, and Math (STEM) fields with Fluor Paducah Deactivation Project engineers.
   EM has long recognized STEM as cornerstones to developing students' critical thinking and problem-solving skills. This recognition drives the Paducah Site and its contractors' partnership with the schools to help prepare students for STEM professions. 
   "Our federal personnel and contractors enjoy providing interactive learning experiences that ignite students' interest in scientific and technical fields and the activities occurring at the Paducah Site," said Jennifer Woodard, Paducah Site Lead for EM's Portsmouth/Paducah Project Office (PPPO).  
   "The students enjoyed having an engineer interacting with the groundwater models," said Brandy Roberts, Heath Middle School 6th grade teacher. "I really appreciate DOE's partnership with our school and the DOE personnel and contractors who take the time to work with our students."
   Roberts coached Heath's first-place winning team at DOE's West Kentucky Regional Science Bowl for middle schools on Feb. 3. Along with the high school competition held Feb. 17, the science bowl regionals are DOE's most visible educational outreach at Paducah.
   Heath, along with the winning high school team from the Gatton Academy of Mathematics and Science, advanced to the National Science Bowl in Washington, D.C. April 27 through May 1.