You are here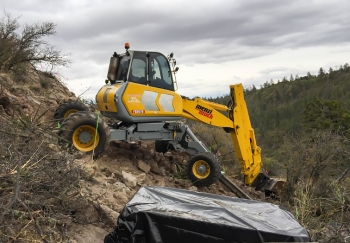 A spider excavator extracts mercury-contaminated soil.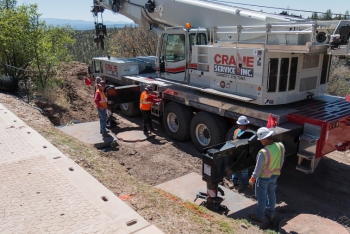 Workers position a crane above the project site.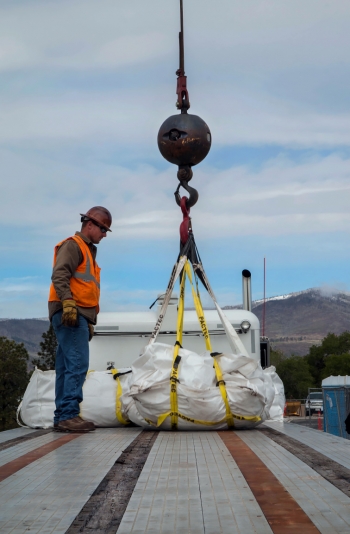 A waste container is loaded for off-site disposal.
LOS ALAMOS, N.M. – EM's Los Alamos Field Office recently completed a steep canyon-side cleanup of mercury-contaminated soil on DOE property just south of a shopping center here.
The project was finished successfully in about five weeks — approximately three weeks ahead of schedule. The field office, management and operations contractor Los Alamos Nuclear Security, LLC, and subcontractor TerranearPMC completed the work.
"We are committed to reducing the Laboratory's historical footprint and intend to continue to make progress on environmental legacy cleanup," said Christine Gelles, the field office's acting manager.
   Experts used a specialized telescoping crane and spider excavator to remove 160 cubic yards of mercury-contaminated soil from the rugged canyon side. The contaminants derived from Manhattan Project and early Cold War era operations at Solid Waste Management Unit 32-002(b2) at the former Technical Area 32, which was the site of a small medical research facility.
   After results of the excavation sampling confirmed that the human health and environmental risk at the site was fully addressed, the team restored the site. 
   The removed soil was placed in waste bags, lifted from the slope, loaded onto flatbeds, and driven to a nearby waste storage area on DOE property in Los Alamos for the final waste characterization. From there, the waste will be shipped to the appropriate licensed disposal facility.
   This legacy cleanup project was a cooperative effort with Los Alamos County and the DOE, which were involved in establishing site access arrangements.
   "This cleanup project is the final step in transforming this site into property that can be used for economic development, which is beneficial in bringing new revenue to both the county and the school district," said County Manager Harry Burgess.