You are here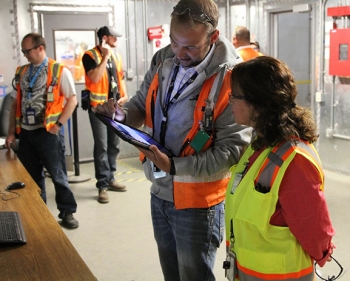 EM Assistant Secretary Monica Regalbuto, right, views the mobile device EM Idaho Site Facility Representative Nicholas Balsmeier, center, has been testing since February. With this tool, Balsmeier can easily access procedures and DOE orders and record notes that can be sent directly to EM and contractor personnel.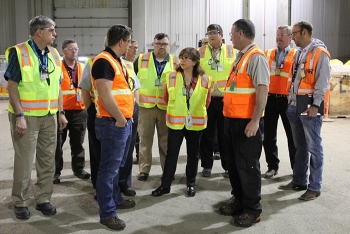 EM Assistant Secretary Monica Regalbuto, center, receives a briefing on EM's cleanup operations from Idaho Site employees.
IDAHO FALLS, Idaho – EM's Idaho Site employees are being commended for leadership and initiative in exploring the use of a new mobile computing device that is now in the hands of about 100 employees across the cleanup complex.
   Following a demonstration of the tool, the Idaho Site reported that it improves the efficiency and quality of work when facility representatives head to the field to oversee cleanup progress. Smaller than a laptop but larger than a smartphone, the device can pull up important work orders and safety regulations in real time, avoiding the hassles of printing lengthy documents and waiting to return to desktop computers to retrieve information.
   "The facility representative is a critical position at DOE. Providing facility representatives with the tools to be effective is critically important, and I am confident this device will greatly enhance their capabilities," EM Assistant Secretary Monica Regalbuto said. "We're really happy EM headquarters was able to sponsor scaling up the Idaho pilot project so the rest of the EM complex can benefit."
   In a visit with Idaho Site facility representatives last year, Regalbuto asked what improvements could enhance their oversight abilities. An Idaho facility representative, Carey Warren, suggested streamlining the administrative tasks of the facility representatives. He suggested the use of a portable computing device to reduce paper use and to record observations and quickly access current document revisions in the field. In response, Regalbuto asked the EM Idaho Site office to evaluate the usefulness and cost of such devices. 
   "I am very proud of the federal workforce here at the Idaho Cleanup Project," said Jack Zimmerman, DOE's deputy manager for the project. "They are willing to speak their mind and offer suggestions for improvement to all levels of management, including senior federal officials. Those senior officials listen to their input and take action as appropriate. That is exactly what occurred in this case. I had one of my facility representatives offer a suggestion for improvement. I obtained a mobile device unit as a pilot and chartered a pilot study by one of my facility representatives, who then reported on its value to field oversight personnel."
   EM Idaho Site Facility Representative Nicholas Balsmeier piloted the device and offered to prepare assessments on it after testing its accessibility with a wide variety of documents in the field. He also looked at its Internet connectivity using Wi-Fi; battery life; and ease of use during daily activities such as field observations and emergency events in non-working hours.
   Balsmeier has worked with the tool since February and describes it as user friendly and helpful to EM's cleanup. With the device in hand, he can easily access procedure changes, take notes onsite and share information with contractors in the field.
   "I haven't printed a procedure in months, and the device allows me to be more functional in the field. If I have a question on something the contractors are doing related to a DOE order or Occupational Safety and Health Administration standard, I can pull it up; I can find it in real time. I don't need to go back to the office to look at it," he said. "The other thing that's nice is that we are all on-call 24/7, so having the ability to log straight in at midnight when they call me, that's very beneficial." 
   EM targeted facility representatives as recipients of the devices, and the procurement serves as an example of DOE and EM headquarters and field site offices working together effectively and efficiently to quickly deliver tools to employees across the complex.
   Several field sites have already expressed appreciation for receiving the devices, which were delivered to EM's Idaho office, Richland Operations Office, Office of River Protection, Los Alamos Field Office, Portsmouth/Paducah Project Office, Savannah River Site, and EM Consolidated Business Center, which will distribute the devices to other EM field sites such as Moab.