You are here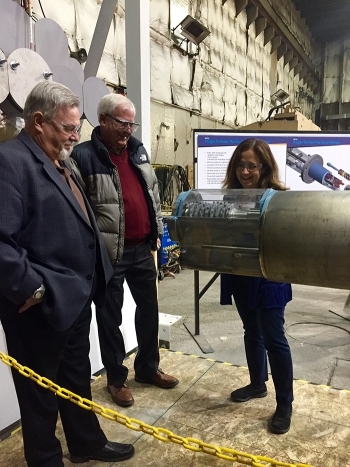 Mike Wiemers, an IWTU technical expert with contractor Fluor Idaho, center, shows the redesigned auger-grinder to EM Associate Principal Deputy Assistant Secretary Frank Marcinowski, left, and EM Assistant Secretary Monica Regalbuto.
IDAHO FALLS, Idaho – EM Assistant Secretary Monica Regalbuto met with Integrated Waste Treatment Unit (IWTU) project engineers this month at the Idaho Site to discuss progress on the facility and review plans for the next work phase.
   IWTU was built to treat the remaining 900,000 gallons of radioactive liquid waste at the Idaho Nuclear Technology and Engineering Center's tank farm. The team has been making changes to IWTU's key components to address equipment reliability and process control concerns.
   Regalbuto inspected the redesigned auger-grinder, which size-reduces any large agglomerations of treated waste product to prepare it for transfer to downstream packaging processes. The component required a redesign due to malfunctions during previous waste simulant treatment campaigns.
   The new auger-grinder design has more distinct "teeth" and blades, with two primary sections, which allows for parts replacement without replacing the entire assembly.
   Testing of the new auger-grinder began earlier this month with granulated, simulated waste product and travertine rock to simulate larger chunks of product. The new component will be tested under conditions similar to prior waste simulant runs, which includes temperatures of over 1,000 degrees Fahrenheit and the inclusion of steam.
   Regalbuto met with project engineers to discuss results from the first phase's engineering, modeling and testing and to receive a briefing from the Technical Review Group (TRG). The TRG, comprised of technical experts from national laboratories, industry, and academia, made recommendations to the IWTU project team based on their review of the project's engineering studies, modeling, and bench-scale studies that examined chemistry and fluidization issues that surfaced in the IWTU's primary reaction vessel — the Denitration Mineralization Reformer. 
   "The Technical Review Group has been a huge asset to us," said Leo Thompson, a technical issue resolution manager with contractor Fluor Idaho. "The experience of each individual is helping us with the strategies to resolve the chemistry, fluidization, and hardware issues that IWTU is currently facing." 
   The second phase, which began in late October, involves use of the Hazen Research Facility in Colorado to conduct pilot-plant tests to confirm that chemistry and waste product fluidization issues are resolved in the Denitration Mineralization Reformer. Additional waste simulant treatment runs are scheduled for next year at IWTU as well as computer modeling, bench-scale testing and other engineering studies.
   Regalbuto was impressed with the engineering changes and Fluor's approach to getting the IWTU operational.
   "I've appreciated the time spent with the IWTU team during our meeting and learning more about their progress," Regalbuto said. "I'm impressed with the thoroughness of the plans for Phase 2 testing and believe they have a solid approach moving forward. I look forward to the results from this next phase of testing.
   "It's remarkable what was done in four and a half months," she said. "Really good work!"