You are here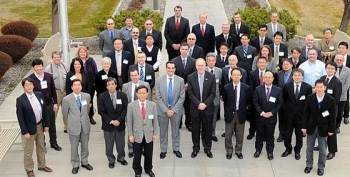 Participants in the EM-led delegation's second workshop gather for a photo at the Hanford site.
RICHLAND, Wash. – An EM-led delegation said its recent workshop for Japanese officials leading the cleanup of the Fukushima Daiichi Nuclear Power Plant site and surrounding area was a success.
"The Japanese officials were very pleased with the outcome of our workshop," said EM Office of Tank Waste Management Director Steve Schneider, who led the delegation. "They were especially interested in our experience in soil and groundwater remediation and other offsite cleanup work. We are in charge of the world's largest nuclear cleanup program and provided our expertise from that experience. The Japanese officials told us that knowledge was very useful."
As part of DOE's continued assistance to Japan as officials there undertake the cleanup, about 75 people participated in the three-day workshop last month near the Hanford site, including several leaders with Japan's Ministry of the Environment and Ministry of Economy, Trade and Industry. An official with the U.S. Environmental Protection Agency (EPA) presented information on U.S. regulations on nuclear cleanup. Representatives with DOE's offices of Nuclear Energy and Health, Safety and Security, national laboratories and EM contractors took part in the workshop.
Workshop Featured Tours of Hanford
EM gave the Japanese visitors tours of several facilities used in the site's nuclear cleanup operations, including the Environmental Restoration Disposal Facility (ERDF), which is used for disposal of low-level radioactive and hazardous mixed waste generated from cleanup. Tour stops also included a radioactive waste burial ground cleanup site and the new 200 West groundwater treatment facility. EM employees briefed the visitors on cleanup activities and discussed topics such as decommissioning of reactors at a stop outside the K-East Reactor, which was shut down decades ago.
The first workshop held by the EM-led delegation last year in Tokyo centered on onsite cleanup, including deactivation and decommissioning of contaminated facilities. At that workshop, EM officials addressed technical issues involved in the Fukushima cleanup and shared their knowledge of the storage, treatment and disposal of radioactive waste and cleanup of damaged fuel and debris.
DOE Assistance to Japan Extends Beyond Workshops
In a related development, EM is connecting the Japanese government with contractors in the U.S. experienced in environmental remediation for Japan to consider as it determines cleanup solutions. EM requested capability statements from the contractors and will forward them to the Japanese leaders, who had expressed interest in U.S. environmental cleanup methods and technologies. Interested contractors are scheduled to meet with the Japanese government this month in Japan. Officials in Japan would contract directly with the contractors.
In addition, representatives from Tokyo Electric Power Company (TEPCO) recently toured the Savannah River Site and Savannah River National Laboratory in South Carolina and the Pacific Northwest National Laboratory in Richland for a series of technical exchanges.